5 Facts About the New, High-Tech $100 Bills
The Federal Reserve is fighting counterfeiters with technology.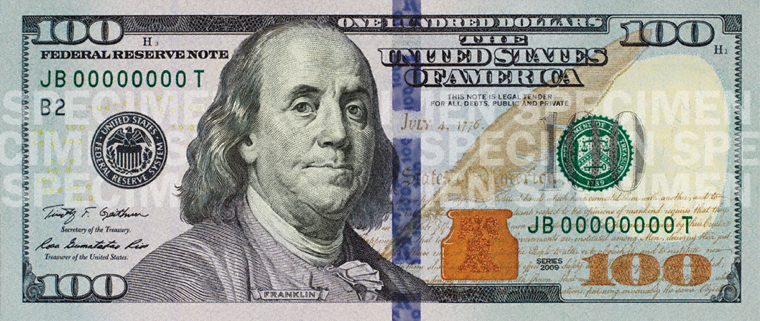 When it comes to security risks in the federal government, most people think of hackers and spammers. While cybersecurity is a huge concern for agency leaders, counterfeiting is a danger that isn't frequently discussed. The Federal Reserve has been leveraging innovative printing technology to make U.S. dollars harder to forge for many years, and the latest $100 bill — released on October 8 — is proof that they are making progress. Here are five things you need to know about the new bills, as well as an interactive infographic from NewMoney.gov.
1. Counterfeit currency accounts for between $60 million to $80 million.
It's not worth a counterfeiter's time to create fake $1 bills. Since the bad guys focus on the biggest denomination, the government invests more time and money to make them as secure as possible, according to MarketWatch:
A report by the Federal Reserve Bank in Chicago estimates that roughly $60 million to $80 million in counterfeit dollars is circulating the globe at any given time. That's between 80 cents and $1 — for every $10,000 in circulation. However, a lot of that is higher denomination bills like $100s.
2. The $100 bill is the largest denomination in American currency.
This wasn't always the case, however. From 1934 to 1935, $100,000 bills were produced for official government use but were never issued to the public. Other large denominations — all of which are now retired — include $500, $1,000, $5,000 and $10,000 bills.
3. The new bills are 3D.
Martin Crutsinger explains on Yahoo! News:
There is a disappearing Liberty Bell in an ink well and a bright blue three-dimensional security ribbon with images that move in the opposite direction from the way the bill is being tilted.

"The 3-D security ribbon is magic. It is made up of hundreds of thousands of micro-lenses in each note," said Larry Felix, the director of the Bureau of Engraving and Printing. "This is the most complex note the United States has ever produced."
4. The Federal Reserve didn't have to invest in new printing technology.
5. They cost 12.5 cents per bill to produce.
Lisa Scherzer explains on Yahoo! Finance:
It costs 12.5 cents to produce one $100 bill because of the new security features (the older version cost 8.7 cents to make). It costs 9.8 cents to make $5, $20 and $50 notes. Each year, the Federal Reserve Board projects the likely demand for new currency and places an order with the Department of the Treasury's Bureau of Engraving and Printing, which produces U.S. currency and charges the Board for the cost of production. The budget for new currency for 2013 is $797.6 million – about 6.8% higher than the 2012 budget. The increase comes largely from the increased cost to print 2.5 billion new $100 notes.
Check out this interactive infographic to learn more about the new bills.
<p>Flickr/dampankle</p>
More On