Why the Cloud Is Complicated: No Two Migrations Are Alike
MeriTalk's Cloud First Consumer Guide highlights agencies' struggles with cloud migrations.
Cloud computing is no longer an option for federal agencies — it's a must. Many agencies have moved their core IT to the cloud, and the rest are either in progress or in search of the right solution. Cloud computing is one of just a few technologies that is so powerful and beneficial that the government has no choice but to adopt it. Like email and mobility before it, cloud computing is forcing government IT leaders to make hard choices about the future of their agencies. According to IDC, the government will be spending $7.7 billion on cloud computing by 2017.
MeriTalk's Cloud Computing Exchange recently released the Cloud First Consumer Guide, the result of interviews with 15 federal IT leaders and several years of monitoring cloud-computing trends. The report, which can be downloaded here, offers exciting insight into the government's cloud efforts, with hard numbers on savings and direct quotes from some of the most influential voices in the federal IT community. Here are some of the most interesting numbers from the report:
Agencies will spend about $1.7 billion on cloud computing in 2014.
Ten percent of the federal IT budget will be spent on the cloud in 2017.
The Bureau of Alcohol, Tobacco, Firearms and Explosives (ATF) saves $1 million annually as a result of moving its email to the cloud.
The Recovery Accountability and Transparency Board (RATB) saved $854,800 over two years by leveraging a public cloud.
Perhaps more exciting than the numbers were the anecdotal success stories from agencies across the government. Because no two cloud migrations are identical, these stories can help other agencies identify their own paths to the cloud:
In ATF's case, the cloud email and collaboration offering also came with much more robust capabilities than their existing on-premise service – capabilities that would have been difficult and costly to create in the existing environment.

… NASA opted for cloud-based disaster recovery to geographically expand its resilience without paying for independent infrastructure. The Department of Homeland Security (DHS) saw a benefit to the "pay-as-you-go" model; current-year payment rather than an investment-return scheme.

The Equal Employment Opportunity Commission (EEOC) moved multiple applications to the cloud – Web conferencing, IT management services, enterprise financial management, and analytics applications – and used a number of providers to get there.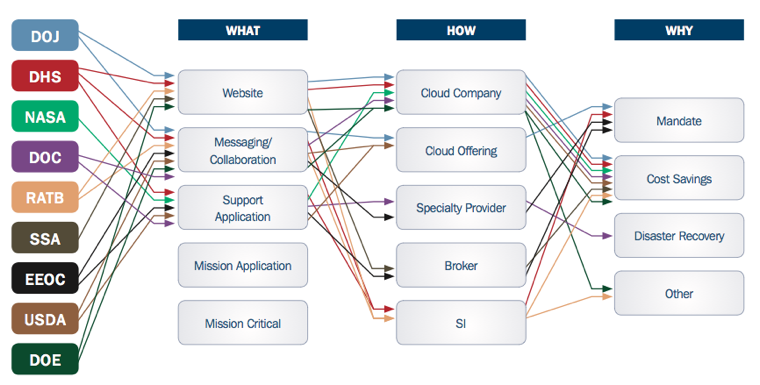 iStock/Thinkstock