Lenovo ThinkPad 8: Great Things, Small Package
The tiny tablet offers big things to mobile users.
As the tiniest computer in the Lenovo ThinkPad lineup, it would be easy, on first impression, to dismiss the 5-inch-wide ThinkPad 8 as a less-than-serious business tool. But that would be wrong.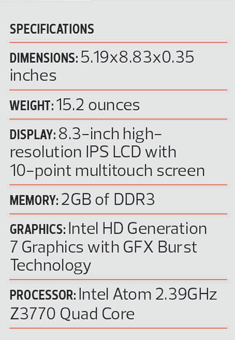 The mini tablet runs a powerful Intel Atom 2.39-gigahertz Quad-Core processor that easily handles Microsoft Windows 8.1, even when the user opens multiple programs or flips through menus on the responsive touch screen. In testing, the ThinkPad 8 scored 471.8 on the Passmark Performance Benchmarks, putting it at the top end for ultrabooks and within range of some entry-level desktops. More important, it never paused or stuttered when powering Microsoft Office programs.
The ThinkPad 8 weighs just under a pound, yet somehow manages to hold all its inner workings and a robust battery in a 0.35-inch thin frame. Running a torturous battery test, in which a movie played continuously, it managed to hold its charge for 6 hours, 37 minutes. No doubt a more typical workload would yield an even longer run.
The ThinkPad 8's touch screen is one of the increasingly popular 10-finger types, meaning users can place all 10 of their fingers, including two thumbs, on the screen at the same time with no recognition errors. This might seem superfluous, but the difference in productivity can be striking. Think of how much faster you might type on a touch screen if you went from two-finger, hunt-and-peck style to using every digit.
Images look great when displayed in the ThinkPad 8's native resolution of 1920x1200, which also supports full 1080p HD graphics. The inclusion of an HDMI-out port means the tablet can be attached to either a standard LCD TV or a computer monitor for presentations. There is also a USB 3.0 port for connecting other devices.
Finally, the ThinkPad 8 comes with several security functions built in that should make it welcome in both government and corporate environments. The tablet has a built-in 2.0 Trusted Platform Module chip for the secure generation of encryption keys. It has the Workplace Join program preinstalled for secure access between the tablet and networks running Windows Server 2012. And there is a nice feature where the tablet will automatically create a VPN tunnel whenever a user selects an application that requires it to reach out and grab information from a network.
In short, the ThinkPad 8 proves that good things come in small — or really tiny — packages. It may be an ideal choice for mobile workers who crave extreme portability, don't want to sacrifice power and can't afford to compromise on security.