Review: Acer TravelMate P648 Packs Performance and Power into a Stylish Form Factor
This notebook has good looks, but it also delivers power, speed and stamina.
The Acer TravelMate P648 is everything you'd want in an electronic traveling companion: durable yet lightweight, powerful and speedy. Its innovative design was built on the TravelMate P645 notebook, which won Red Dot awards for design in both 2014 and 2015.
First impressions are important, and the P648 does not disappoint. The black matte lid is made of carbon and glass fiber — a look that says it means business. A slightly beveled edge aids in opening the notebook, giving way to a full-size keyboard nestled within a magnesium aluminum base. The 256-gigabit solid-state hard drive boots up Windows 10 quickly. However, the chiclet keyboard and touchpad seem slightly off from the rest of the design. Both are adequate and do the job, but they don't possess quite the same "wow" factor as the rest of the notebook.
More power and speed wait within. The sixth-generation Intel i7 processor, combined with 8 gigabytes of RAM, handles mobile productivity functions with ease. Even graphics-heavy applications aren't a problem, as the P648 does not rely on an onboard video card — it sports an Nvidia GeForce 940M processor with 2GB of dedicated DDR3 video RAM. This helps the TravelMate to process video quickly, such as during a fast-moving video conference that might challenge other notebooks' ability to keep up.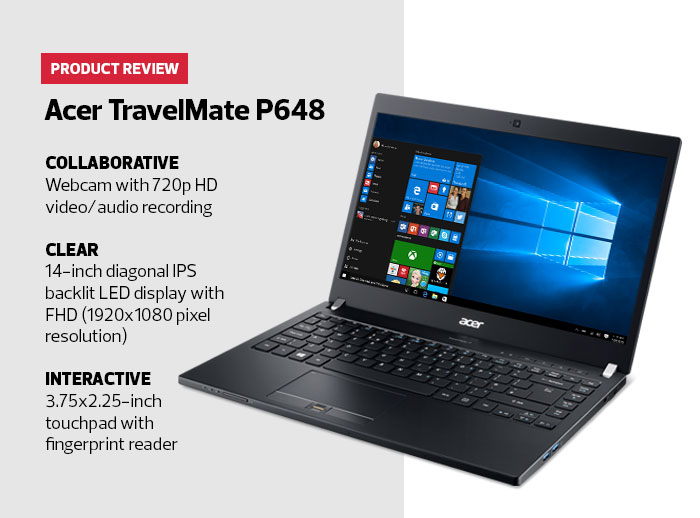 SPECIFICATIONS: Processor: 2.5GHz Intel Core i7 6500U, Memory: 8GB DDR4 SDRAM, expandable to 20GB, Connectivity: 802.11 a/b/g/n/ac/ad, Bluetooth 4.2, Storage: 256GB SSD, partitioned into two 100GB drives, Ports: 256GB SSD, partitioned into two 100GB drives, Dimensions: 12.9x9.3x0.8 inches, Weight: 3.75 pounds
Advanced Connectivity Capabilities 
The P648's mobile connectivity is second to none, supporting Bluetooth and numerous 802.11 Wi-Fi standards. Acer says the P648 is also the first notebook on the market to feature Qualcomm Atheros 802.11ad multiband wireless connectivity. This utilizes the 60 gigahertz frequency for Wi-Fi, enabling short-range, high-volume transfers of up to 4.6 gigabits per second, a wireless speed that leaves Gigabit Ethernet in the dust.
The P648 also has excellent stamina: Our video playback tests showed an average of 9 hours, 22 minutes before the battery was drained.
The TravelMate P648 is comfortable at the office as well. A small rubber patch on the bottom conceals a docking port, compatible with Acer's ProDock III docking station. Or, users can connect via the native HDMI, VGA or Thunderbolt USB-C ports to an external monitor or another docking station. Triple display is even an option for users who just can't get enough real estate when it comes to screen space.
Acer