Review: Cisco Hyperflex Makes Virtualizing IT Infrastructure a Breeze
Thanks to its familiar console interface and management tools, Cisco's HyperFlex platform lets agencies easily embrace and reap the benefits of virtualization.
Virtualization is one of the most effective ways to manage a modern organization's IT infrastructure.
If staff members need new desktops or servers, the IT team can configure and spin them up from an existing resource pool without adding new hardware. Still, some agencies may not want to house confidential data offsite with cloud-based services, and, until recently, few workable ­alternatives existed.
Enter Cisco Systems' HyperFlex, which is engineered on the Cisco Unified Computing System to provide the advantages of cloud-based virtualization services from a secure, in-house environment. With HyperFlex, Cisco has created a hyperconverged infrastructure solution that integrates computing, software-defined storage and virtualization with software-defined networking on the Cisco HX Data Platform. An IT shop can deploy an entire infrastructure in just a few hours — and in a small footprint. Even so, a single HyperFlex system can scale to 29 terabytes of data, while making management of virtualized components speedier and less complex.
A Familiar Interface for Spinning Up Virtual Machines
I tested a HyperFlex configuration ­running at an in-house data center that supported several hundred virtual machines (VMs). The key to maintaining the system is the HyperFlex management console. Cisco designed the console to incorporate into VMware's vSphere client. Most admins will be familiar with the interface, ready to build out and maintain VMs from day one.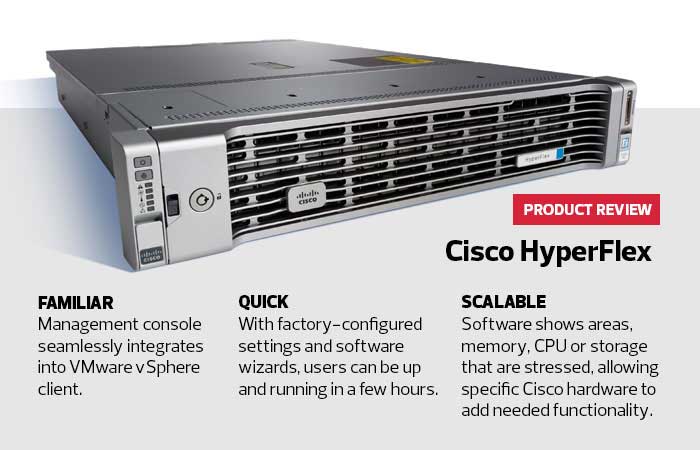 SPECIFICATIONS: Processors: Up to four per node, Storage Capacity: From 7TB to 29TB, Size:  Between 1U and 6U, Setup Time: Less than one hour for all configurations, Uptime: 99.999 percent, Estimated Savings Over Traditional Storage Costs: 80 percent 
Managing VMs After They Are Created 
It was also easy to combat one of the biggest problems of virtualization: VM sprawl. Spinning up new ­systems is easy, but so is forgetting about them afterward. HyperFlex combats sprawl by indexing every virtual asset within a ­network and showing all of the usage histories. In addition to the desktops I created, it was easy to find more desktops that were taking up resources, even though they hadn't been used in months. As admin, I could flag them for further investigation, or simply wipe them out with a few clicks.
Enhanced Virtualization Efficiency 
Even advanced virtualized configurations are supported like everything else within the HyperFlex interface. I was able to configure clusters to work on high-performance tasks within my network. The HyperFlex system supports up to eight clusters of eight nodes each.
The Cisco HyperFlex system is a perfect tool for any organization seeking to tap into the efficiencies and economic benefits of virtualization. It provides an almost cloudlike management functionality, while allowing data to remain safely protected.
Cisco