Review: The HP Z4 G4 Workstation Unleashes Out-of-This-World Power
Designed for apps that do incredible amounts of processing, this workstation handles nearly any nonsupercomputing task.
Computers in general are getting more powerful, but some mission-critical applications within the federal government require systems purposely designed to handle big number crunching or graphical rendering workloads.
The new Z series of HP Workstations fills that role so well that NASA sent 120 of them to the International Space Station. The unit tested for this review, the HP Z4 G4, was created with more earthly, but equally powerful, applications in mind.
The heart of this machine is an Intel Xeon Quad-Core processor running at 3.2 gigahertz. The CPU is backed by 8-gigabyte DDR4-2666 ECC SDRAM spread across eight DIMM slots for even quicker throughput and expansion options. It operates at up to 2,666 megatransfers per second, giving it the ability to make hundreds of millions of transfers per second.
With that kind of hardware, the Z4 G4 has got number crunching covered. But it's also no slouch when it comes to graphical rendering. In addition to its well-configured system memory, the Z4 mounts its own graphics card, so it doesn't need to rely on Intel HD graphics, which tap into that same well. It has an NVIDIA Quadro P400, which adds 2GB of dedicated GDDR5 video memory.
SIGN UP: Get more news from the FedTech newsletter in your inbox every two weeks!
HP Z4 G4 Delivers Speedy Application Performance 
I loaded everything from complex 3D displays to computer-aided design programs and virtual reality, and there was never a delay. In fact, this was one of the quickest systems for any type of graphical application that I have ever tested.
Everything about the workstation has been built for speed. It has 1 terabyte of storage and an integrated SATA 6-gigabyte-per-second controller. The drive can be partitioned into RAID level 0, 1, 5 or 10. For accessing external components, it uses four USB 3.1 ports, including one that can charge connected devices. It even has an optical drive, an HP Slim DVD-Writer, which is increasingly rare these days.
The federal government likes to use commercial equipment to control costs, as opposed to dedicated, custom computers. With the HP Z4 G4 Workstation, feds get the best of both worlds: a powerful workstation designed for complex tasks that is available off the shelf for a retail price.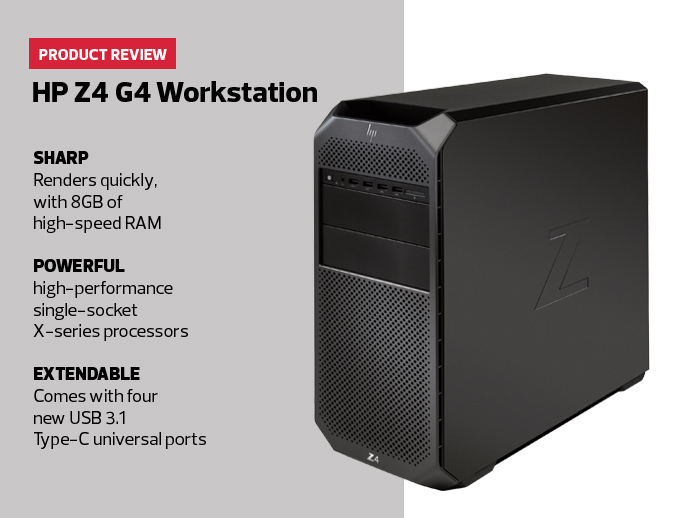 Protect Federal Data with a Self-Encrypting Drive 
Agencies are required by law to consider security as a major factor when purchasing any kind of computer or communications equipment. As a result, popular devices and services that are wildly successful in the commercial space may not be suitable for government service.
Given that the HP Z4 G4 Workstation was designed for federal users, it's no surprise to find several layers of security as part of the standard package. I tested these security measures not only to see how they worked, but also to find out if their inclusion was detrimental to overall performance.
One of the machine's best security features is a self-encrypting drive that works across multiple drives or partitions if the RAID level is configured that way. This optional feature is turned off by default, but is easy to set up and activate.
Feds Get a Host of Smart Security Measures
Benchmarking before and after encryption found almost no degradation when encryption was active. There is a small difference in read and write times with active encryption, but the Z4 G4 is so powerful to begin with that delays (often as small as milliseconds) will not be noticed.
Making encryption optional is smart. A public web server wouldn't necessarily need it, but an app collecting personal information or classified data would. Classified apps won't suffer from having data encrypted.
In addition to encrypting drives, all Z4 G4 workstations come standard with the HP Client Security Suite Gen 3, which hardens key areas of the system (such as the BIOS or identity storage) from intrusion. They also have HP Sure Start technology, which monitors the system BIOS and automatically heals it back to the last known good state if it is tampered with or degrades due to a power spike. This is a step beyond most security programs because it actually fixes the problem.
The HP Z4 G4 Workstation has more than enough security features to satisfy most federal agencies and applications. And it goes beyond the baseline to provide advanced features such as self-encrypting drives and a self-healing BIOS. It offers all that without sacrificing what is probably the second-most important factor for feds: its impressive raw performance.
HP Z4 G4 Workstation
Processor: Intel Xeon 3.2GHz Quad Core W2104
Hard Drive: 1TB 7200 rpm SATA drive
Graphics: NVIDIA Quadro P400 (2GB GDDR5 dedicated)
Memory: 8GB DDR4-2666 ECC SDRAM
Optical Drive: 1 HP Slim DVD-Writer
Weight: 22.4 pounds
HP