Review: Belkin KVM Separates Feds' Data with Unparalleled Flexibility and Security
This advanced KVM switch is one of the most innovative and secure devices ever made.
Most people these days have more than one computing device in their office or on their desk, and before the invention of keyboard-video-mouse switches, each device required its own display and input peripherals.
KVM switches changed that, making it possible for multiple computers to share a single display, keyboard and mouse — even audio channels. This was a great solution, but employees who needed to access normal and classified networks were often forbidden from joining the clutter-cutting revolution.
In response, companies invented secure KVM switches, which can fully isolate all channels so that no information is able to pass between them. The Belkin Universal Secure KVM switch is one of the most innovative and secure KVMs ever made.
Designed with the federal workforce in mind, it allows up to four computers to share one keyboard and mouse, plus one or two monitors. Each channel is fully isolated, and the KVM is certified to NIAP Protection Profile 3.0. 

Belkin's KVM Lets Feds Operate Securely in Multiple Environments
Especially for feds, each computer connecting to the KVM has a port reserved for a Common Access Card reader for more security.
Unlike most KVMs that limit what cables can be connected, the new Belkin KVM works in mixed video environments thanks to its autosensing ports. When either an HDMI or a DisplayPort cable is connected, the KVM will detect it and configure the video channel accordingly.
A desktop controller unit port allows users to program colors and text to appear on their display when working with various systems, perhaps to remind them when they are using a classified network. The DCU also enables browsing of available networks and switching to them from the desktop.
The hardware-based buttons, which can also switch feeds, come with stickers for federal network names, such as SIPR, JWICS, NSA and NIPR, plus stickers for secret, classified and unclassified networks, for easy labeling.
The Belkin Universal Secure KVM Switch lets feds seamlessly combine devices and networks of any security level, enabling local networking and reducing clutter without any risk of data leakage.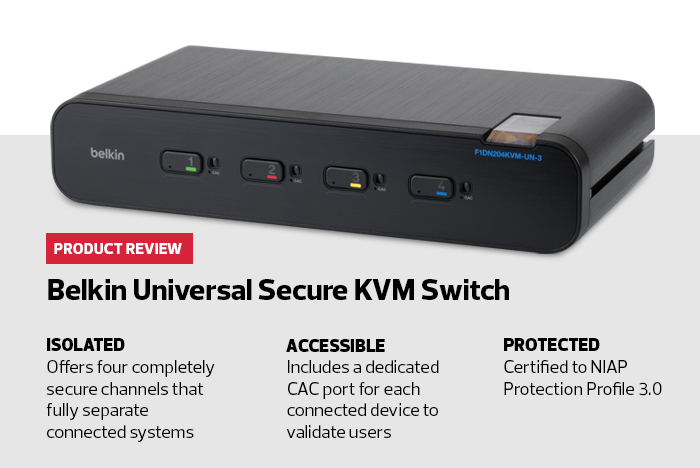 Agencies Gain a Fortress of Solitude with Belkin's KVM
Designed specifically for the federal workforce, the Belkin Universal Secure KVM Switch has a surprising number of advanced features, such as autosensing display ports and a programable desktop controller. But all that would be meaningless if the device were not fully secure.
The Belkin KVM has impressive certifications, including NIAP Protection Profile 3.0. And it offers a dedicated Common Access Card reader for each of the four devices that connect to it.
We tested security in a variety of ways, including trying to overload the keyboard buffer while switching inputs, which might allow characters typed on a secure network to appear on an unsecure one. That didn't happen, as the KVM was able to clear the keyboard buffer before connecting to the new device. 
It also restricted the discovery of new devices during the switch-over process — a specific vulnerability that used to stymie older secure KVM switches. This KVM will allow the mouse to work, but won't allow things like USB devices to connect in the interim.
There is also physical security, which is sometimes overlooked, but which is critical in secure government installations. A holographic sticker is tightly glued to the main seam that provides access to the guts of the KVM, so the KVM can't be opened up without first peeling off the heavy sticker. The shiny silver hologram is destroyed if anyone tries to remove the sticker, providing ample evidence if there's any attempt to pry the KVM open. It is impossible to safely remove the sticker, open the device and then replace the hologram to cover up the intrusion.
But the sticker is just the first line of physical defense. Should someone remove the hologram and crack open the KVM, the device will self-destruct. Not in a Mission: Impossible style, with smoke and fire, but effectively nonetheless: The device simply renders itself inoperable. When the KVM powers up after a tampering attempt, its lights merely blink to indicate that tampering has occurred. No inputs will function, and no connected computers will send any data through to the attached display. 
The Belkin Universal Secure KVM Switch is ready to report for duty at any federal office that requires consolidation of multiple computing devices while keeping the data on them secure and separated. It provides more than enough hardware- and software-based security to accomplish that mission.
Belkin Universal Secure KVM Switch
Secure Ports: 4
Video Formats: HDMI, DisplayPort
Max HDMI Frame Rate: 4K at 60Hz
Max Display Port Frame Rate: 4K at 30Hz
Dimensions: 13.4x7x3.1 inches
Weight: 3.9 pounds
Belkin