Finding ROI in the Clouds
Agencies save millions as they move to cloud services.
The General Services Administration practices what it preaches. The agency doesn't just promote cloud computing in the federal government, it's leading the charge in adopting the technology and experiencing first-hand the cost savings and other benefits that come with the cloud.
In 2009, GSA's Office of Citizen Services and Innovative Technologies (OCSIT) migrated its USA.gov web portal and Spanish-language sister site to a commercial cloud provider for hosting, storage and disaster recovery. It's a move that saves $1.7 million a year, reduces downtime and allows the agency to immediately accommodate huge traffic spikes without having to upgrade its own bandwidth or purchase new servers.
GSA's OCSIT also uses a hosted cloud infrastructure for its Data.gov website, and last year, GSA's Office of the CIO became the first agency to migrate all its employees to cloud-based e-mail, which is expected to save GSA about $15 million over five years.
"It would be difficult for us to be an advocate of cloud services without actually doing it ourselves," says David McClure, associate administrator of GSA's Office of Citizen Services and ­Innovative Technologies. "We're walking the talk by being a user and implementer of cloud services, and it's definitely built our ­credibility."
Federal adoption of cloud computing is still in the early stages, but it is gaining momentum more than a year after the Obama administration's "cloud first" edict, which requires agencies to prioritize cloud services and move three applications to the cloud by mid-2012.
Cloud has become a top government initiative because it allows agencies to run IT services more efficiently, improve serv-ices and cut costs. Some agencies are getting their feet wet as consumers by initially moving web hosting and e-mail to the public cloud. Other agencies, especially existing shared-services providers, are showing interest in becoming government cloud providers themselves, McClure says.
"We're evolving from the state of learning and gaining experience to getting examples of agencies that have moved to cloud services and are delivering cost efficiencies and freeing up resources to do other kinds of work," McClure says. "This is helping some CIO offices to become more agile and have an ability to be more responsive to their agency and business partners' needs."
GSA's Switch to Cloud E-Mail
After successfully moving GSA's 17,000 users to cloud e-mail, CIO Casey Coleman's message to other federal IT leaders is: It's doable, the technology works and it does save money as promised. But with any big project, IT administrators must address some complexities.
In mid-2009, GSA's IT leaders were faced with an aging e-mail infrastructure that needed to be replaced. After researching whether to replace the existing system in house or move to the cloud, the agency decided the market was mature enough to try the cloud. And in late 2010, GSA awarded a $6.7 million, five-year contract to move the entire agency to a public-cloud provider, which includes e-mail and collaboration software.
GSA's IT staff, members of other offices within GSA and its vendor partners spent six months on the migration. As part of the process, they made sure GSA's network could handle the increased bandwidth requirements and made sure cloud e-mail was compliant with the Federal Information Security Management Act's moderate level of security.
50%
The percentage of its spending on e-mail that GSA expects to save in five years after migrating its internal e-mail system to the cloud
SOURCE: General Services Administration
Testing and training users on the new e-mail system was critical to GSA's success. In March 2011, the agency tested the e-mail with 100 users in the IT department, and then in April, it added 400 senior executives and program managers to the test. Doing so allowed the implementation team to work out the kinks and fine-tune its educational program to teach users how to work with the application, Coleman says.
In May, the agency migrated between 20 terabytes and 40TB of e-mail data. And in June, it went live with cloud e-mail. "It was a significant amount of work, but by the time we kicked off the project in June, we made sure the risk was low," Coleman says. "We had tested it for weeks before we went live."
While cost savings are important, Greg Schulz, founder and IT consultant at the Server and StorageIO Group, says agencies reap other key benefits, including increased IT effectiveness and improved productivity. The GSA is living proof of that.
Eight months after launching cloud-based e-mail, GSA is not only saving money by eliminating existing IT support, infrastructure and contract support costs, but the hosted software service is boosting productivity and providing the uptime and reliability the agency needs, Coleman says. Besides e-mail, users are taking advantage of collaboration features, such as shared calendaring, instant messaging and the ability for employees to create and edit documents together.
"In the past, we would implement these monolithic enterprise systems that would take years to deploy before you see any benefit or actual usage," Coleman says. "With this, we flipped the switch, and by going to the cloud, we rolled it across the agency without having to wait years to see a benefit."
Furthermore, she says, it allows the agency to pay for IT services as an ongoing operating expense, rather than having to pay one big upfront capital expense, she says.
This year, the GSA plans to move storage to the cloud for even more savings. In the meantime, it is implementing a software service to manage and secure mobile devices and replacing its legacy Lotus Domino applications with a cloud-based CRM software and private social networking tool. The agency will get a return on investment within 18 months with the new cloud-based tools, she says.
Homeland Security's Hybrid Cloud
Elsewhere, the Homeland Security Department is embracing a hybrid approach, building private-cloud services in its data centers for more sensitive data and applications, and using public-cloud offerings for nonsensitive data such as website hosting.
The department is currently consolidating 43 data centers to two enterprise data centers, which will host infrastructure, platform and software as a service offerings, including virtual servers, storage, e-mail, business intelligence, CRM and application development tools, says CIO Richard Spires. Rather than having to buy and manage the equipment themselves, Homeland Security's components, such as Customs and Border Patrol, can spin up virtual servers or subscribe to applications on a pay-per-use basis.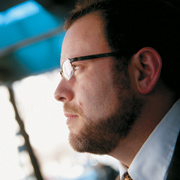 Photo: James Kegley
In total, Homeland Security is building nine private-cloud services that will reduce duplicate systems and cut IT costs by an estimated 8 to 10 percent. For example, the department is consolidating nine separate e-mail systems into one "e-mail as a service" offering using Microsoft Exchange that will cut e-mail costs by 20 to 50 percent, Spires says. Contractors manage Homeland Security's two enterprise data centers and its new private-cloud services.
The department determined that it could build and operate its own cloud e-mail service for the same cost it would incur if it went with a public-cloud service provider. "We feel good that we're paying the same price as a public-cloud provider," Spires says. "By consolidating the separate e-mail systems, we get significant economies of scale and get rid of the headache of our components administering it themselves."
The department has also launched Microsoft SharePoint as a service ­offering, and currently 70,000 users subscribe to the software, which improves information sharing across Homeland Security agencies. Besides cost savings, the private- cloud serv­ices allow users to deploy and scale applications and serv­ices quickly, Spires says. For example, through infrastructure as a service offerings, agencies can provision a new test server in one business day, compared with up to two months without the serv­ice, he says.
Small Agencies Also Benefit
Over the past three years, the Federal Labor Relations Authority has seen its annual IT budget fall from $1.7 million to $600,000 — and to compensate, the agency is turning to cloud services.
In September 2009, the 131-employee agency looked for an alternative to managing its own databases and turned to an online database software provider to host its case tracking system, a mission-critical application used by the agency's attorneys and other staffers for complaints of unfair labor practices.
"Our database was expensive. With the agency being small and on a limited budget, we were interested in jumping on board with the cloud initiative," says CIO Chris Webber, who joined the agency in March 2010, when the database migration was in progress.
The move is expected to save $600,000 over a five-year period. Instead of having to pay for annual database licensing and support costs and a database developer for system support and maintenance, the agency pays the hosted software provider a recurring annual subscription fee, ­Webber says.
VA Eyes More Cloud Services
The Veterans Affairs Department built what is essentially a private cloud before the term "cloud" was even coined, says Horace L. Blackman, VA's Central Office CIO and director of IT Support.
In 2005, the VA launched an effort to consolidate the 128 individual server rooms in its VA medical centers to regional data centers across the country. So far, 49 — or about 38 percent — of the medical centers are running their IT services out of four regional data centers, which has saved the department an estimated $100 million, Blackman says. When the project is complete, the 128 individual server rooms will be migrated to eight regional data centers, saving an estimated $230 million, he says.
The VA is providing private cloud services to each medical center, such as e-mail and the Veterans Health Information Systems and Technology Architecture healthcare applications, which are used to run the medical centers.
As the second-largest federal agency, the VA won't turn over its entire IT operations to the public cloud, but the department is considering third-party cloud services to supplement its data center strategy, Blackman says. For example, the agency is investigating cloud-based e-mail and collaboration tools and other cloud-based services.
"The market is mature enough where you can look at some hosted service providers that do offer compelling, cost-effective services," Blackman says. "We're open to anything in the cloud right now, providing that it makes sense economically and allows us to enhance the level of service and save taxpayers money."
<p>Khue Bui</p>
More On