Army IT Goes Agile
The service wants to test new technology and deploy it to troops more rapidly than ever.
This fall, the Army will begin equipping battlefield troops with cutting-edge communication technology. For the first time, a brigade combat team will be able to build a mobile wide area network (WAN) that allows everyone from the brigade commander to front-line soldiers to have voice and data communications while on the move.
Soldiers on the ground will be equipped with ruggedized, handheld global positioning system devices, allowing them to see team members' locations, identify obstacles and plot enemy positions on a digital map. They can transmit and receive orders through text messaging and take photos and share them with the rest of the brigade.
"A commander on the move will be able to command and control formations from voice radio, but also have an increased situational awareness," says Brig. Gen. John Morrison, director of the Army's LandWarNet/Mission Command. "They will have many of the same tools as if they were standing at their own tactical operations center. Their visibility of the battlefield will increase significantly."
The Army is testing and implementing the new tactical communications equipment at a much faster pace than ever before. Rather than spending years or even decades developing and deploying new systems, the service wants to evaluate new technology capabilities and deploy them to combat troops much more rapidly.
The Army, for example, previously planned the deployment of a digital radio system to begin in 2014 and be completed by 2030, unintentionally ensuring that the radio would be obsolete before every unit received it. Now, instead of making massive servicewide purchases, the Army intends to buy network capabilities in smaller increments and shorter timeframes so they can provide the latest gear to the soldiers who need it.
"It's a new way of doing business," Morrison says. "We are buying what we need when we need it, and only for those who need it. But it is also an attempt to buy less, more often, so we can leverage industry innovation and provide the latest innovations to our formations."
The new acquisition strategy, called the Agile Process, is part of a larger effort by the Army to streamline IT and equip soldiers and other Army personnel with technology much faster and more cost-effectively. Faced with budget constraints, the Army must remake itself to become smaller and more agile — and the network is at the heart of the transformation.
The service is building an enterprise network called LandWarNet, which will integrate its many disparate networks across the globe. The new mobile WAN — the Warfighter Information Network-Tactical (WIN-T) Increment 2 — forms the backbone of the tactical portion of this new enterprise approach.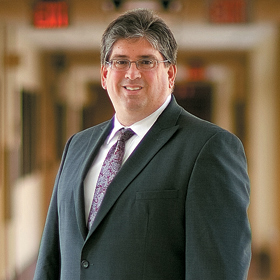 Photo: Khue Bui
The Army's IT plan goes hand in hand with DOD's big-picture IT strategy, Gary Blohm says.
The Army is also consolidating under­used data centers, eliminating unnecessary or duplicative applications and starting to take advantage of cloud computing and thin client and zero client devices to allow personnel to quickly and easily access data and applications at any time, from anywhere.
The goal is to provide the most effective and efficient technology while improving cybersecurity and reducing costs, says Gary Blohm, director of the Army Architecture Integration Center at the Army Chief Information Office/G-6.
"It's really about an enterprise approach to the network," Blohm says. "In the past, we built up the network piece by piece over time. We divided the business systems and the war­fighter mission systems, and what we need to do is bring all of this together."
For example, as the wars wind down, soldiers returning from war zones to posts or bases in the United States have discovered that they cannot access the warfighting systems they used in battle. An integrated network will allow them to access those systems, so they can continue to train and be prepared for war. "If we move the data to the cloud, they can train on those mission command systems from wherever they are," Blohm says.
How the Army Is Building Agility
Network Integration Evaluations (NIEs) play a major role in the new acquisition and deployment strategy. Every six months, a brigade combat team — along with Army engineers and materiel developers — tests and refines new technologies and works to ensure that the equipment is compatible with existing systems before purchasing and deploying them to troops.
In the past, the Army required combat units in the battlefield to do the integration work themselves, with no guarantee that the equipment would work well together, says Morrison, who was recently assigned to be commanding general of the 7th Signal Command in Fort Gordon, Ga.
"Now, for the first time, we have all the components that make the network — the transport systems, data radios and applications — all in one place. And we are integrating it prior to fielding it in the Army," he says. "It's a fundamental change in how we are testing and delivering equipment."
The Office of the CIO/G-6 is playing a critical role in developing the new ­acquisition strategy by establishing ­technology standards and articulating them to technology vendors, Morrison says.
In the past, the Army purchased stovepiped technologies, each with different timelines for acquisition and deployment. Now, Morrison says, the Army looks at every element of its network, such as vehicles, software and networking gear, as a cohesive set of technologies called "capability sets." Under the new strategy, the Army will review its current capability set baseline, then establish any new requirements or identify operational gaps, then use the NIE process to make the proper adjustments.
The Army has developed a multistep testing process. First, it performs an initial assessment at its lab at Aberdeen Proving Ground in Maryland, and if the technology passes muster, it is included in the NIEs.
The Army not only must make sure the technology is compatible and meets technical and security requirements, but it also must physically integrate the equipment — such as networking gear — into its armored vehicles, says Brig. Gen. Dan Hughes, director of the System of Systems Integration Directorate.
"Our vehicles are cramped already, so we have to physically fit equipment into our M1s, Bradleys and Strykers," he says.
At the NIEs, about 3,800 soldiers from the 2nd Brigade Combat Team, 1st Armored Division, test the equipment in battle scenarios at Fort Bliss, Texas, and White Sands Missile Range in New Mexico, providing feedback on how well the technology fares.
Soldier feedback is important because it allows the Army to know what works, what doesn't work and what needs to be refined. The twice-yearly testing events have saved the service from wasting money on flawed or incompatible technology, Morrison says.
"It's critical to making smart, informed decisions," he says. "We want to make sure it's mature enough and that it fits within our architecture."
At its third and most recent NIE in May and June, soldiers validated the first capability set. The service will begin equipping eight brigade combat teams with the new technology this October — and it will include the new WIN-T Increment 2 network and handheld devices to soldiers, Morrison says.
"The last NIE was our most expansive one to date. All the pieces and parts worked together," he says. "We found some tweaks that are needed, but we will get it fielded in October."
New Technology Is Bolstering Tactical Communications
WIN-T Increment 2, a central piece of the new capability set, is an IP-based mobile WAN that will let brigade combat teams stay in communication with other forces while they are on the move.
The previous network, WIN-T Increment 1, operated as a stationary network and allowed network services only down to the battalion level. WIN-T ­Increment 2 extends the network down to the ­company level, allowing soldiers to ­communicate with each other and up the chain of command. "It's the backbone of what we are doing," Hughes says.
$6 billion
The amount the Army estimates it has saved or avoided spending through its Network Integration Evaluations process, which has consolidated test practices and restructured programs
WIN-T Increment 2, built with networking gear embedded into the Army's vehicles, connects with an existing radio system for voice communications that will allow dismounted soldiers to use new smartphone-like handheld devices to communicate and access information, Hughes says.
The Android-based mobile device, which can be strapped to a soldier's arm or some other part of the uniform, becomes a node on the network, ­allowing commanders and soldiers to see each ­other's location on a GPS map and prevent friendly fire, Hughes says.
Company commanders can access applications and continue to exchange information while they are on the move, which will improve situational awareness and decision-making, Morrison says. Text messaging lets soldiers communicate without speaking. Soldiers can take digital photos and send them up the chain of command.
"It will change how small-unit tactics are executed," he says. "You don't need to be talking all the time. You are able to do more decentralized operations."
With the mobile device, Army ­software developers can build apps to further boost communications and increase efficiencies, Hughes says.
For example, the Army may build an app that would allow soldiers to order more ammunition when they're running low. If soldiers are exploring new terrain, a new app could give them the ability to create a map on the fly as they come across buildings and other structures. Soldiers can also download the latest operations parameters and rules of engagement, he says.
"It opens up the door to tremendous capabilities. It's very exciting, and just in its infancy," Hughes says.
How the New IT Is Making an Impact
The new acquisition process and the NIEs have made an impact already, Morrison says. Besides evaluating technology during the NIEs, the Army also analyzes the effect IT has on doctrine, organization, training, materiel, leadership, education, personnel and facilities. Doctrine, for example, determines the way the Army fights.
"We are doing a complete look at that," Morrison says. "We are looking across the spectrum, so when we push this capability into the field, we are also bringing in a lot of lessons learned."
During the NIEs this fall and into next year, the Army will begin efforts to integrate its mission command network with its operations and intelligence networks. Over time, the service will connect logistics networks and some medical networks, but Morrison is happy with what already has been accomplished.
"It's a process that is still maturing, but it has already shown great dividends," he says. "Ten years of war taught us that the network is the No. 1 modernization effort. Everything will not converge in six months. It will take time, and we have to make sure we do it right. For us to get mission command on the move is absolutely a huge leap forward, and connecting soldiers to the network is a huge step forward."
<p>Gary Landsman</p>