How the Digital Government Strategy Modernizes Government Services
IT executives report a successful year of mobile innovation at the agency level.
The Digital Government Strategy is just over one year old. Has it improved the federal government?
Mobile Work Exchange, a public–private partnership focused on mobility, telework and education, recently conducted an online survey of 175 federal IT executives who are involved in implementing the Digital Government Strategy.
The purpose of the survey was to evaluate the developments and achievements that agencies worked toward over the past year. Some of the most important technological advances, such as mobile devices and applications, were highlighted.
Instituted in May 2012, the Digital Government Strategy is intended to guide federal agencies in their efforts to harness technology to improve services, according to the White House:
Ultimately, this strategy aims to be disruptive. It provides a platform to fundamentally shift how government connects with, and provides services to, the American people. . . . It creates a space for citizens to become partners in building a better government, where "every man," as Thomas Jefferson once wrote, "feels that he is a participator in the government of affairs."
Under this strategy, variables such as openness and information exchange were built into measurable factors. Agencies, seeking to modernize their services and provide secure access at a lower cost, now have goals to help them strategically implement these variables.
Government-wide budget cuts continue to directly affect how each agency approaches their strategic milestones. As a result, 59 percent of agencies have developed an enterprise-wide inventory of mobile devices and wireless contracts to leverage economies of scale. This tactic allowed many agencies to gain a budgetary advantage.

Progress was made in the internal and customer-facing services that have traditionally been lacking a technological aspect. Mobile applications, such as timecards and warning systems, saw an increased push. Seventy-five percent of agencies are using, developing or considering mobile apps.
The survey indicated that agency employees have benefited from these enhancements. For example, work-life balance has increased. Forty-seven percent of respondents reported that employee productivity has improved as a result of access to mobile devices. Employees can access resources remotely and have more time for personal matters.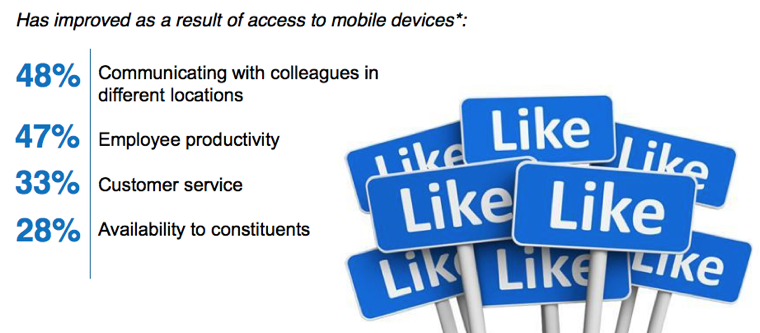 Despite all of these achievements, there are still roadblocks to full technology integration. Seventy-three percent of IT executives reported that security remains a top barrier to reducing costs when integrating mobile.
IT executives anticipate deploying security-related mobile tools in the next two years. The top three tools are encryption, mobile device management and multifactor authentication.
Overall, the survey revealed that the Digital Government Strategy has enhanced efficiency throughout the government and that agencies could find cost savings in the future. However, factors like budget and policy are still major impediments to success.
The strategy has provided a modern scaffolding to build mobile innovation in an organized, cost-effective manner. Agency employees and the American people will continue to see benefits from this strategy as IT executives move forward.
We encourage you to download the report for more information.
<p>iStockphoto/Thinkstock</p>