The Army, Air Force and Marines Call Up Rugged Mobile Solutions for the Battlefield
Federal agencies have a lot to learn from how the armed forces buy and use rugged notebooks, tablets and smartphones.
Jostling from airport crowds, coffee spills and city grime can stress the mobile devices of any road warrior. But for warriors who are actually in the military, real-world stress tests reach new extremes.
Ruggedized devices have become standard issue for a range of combat and tactical missions in hot, sandy deserts or humid jungle environments. They're used by what the Army calls early-entry forces, who parachute from aircraft to establish mission-command centers in forward locations. It doesn't get any easier back home in the U.S., where notebooks support B-52 bomber missions in Minot, N.D., with winter temperatures routinely well below zero.
Along with durability, military branches are adding a new requirement to their mobility wish lists — smaller and lighter (but still rugged) devices. This is shifting form-factor preferences, according to VDC Research. In a report released earlier this year, the firm forecast that rugged notebook procurement by defense agencies will decline slightly over the next five years, while ruggedized tablets and smartphones will see an upswing in procurement during the same period.
The growth will be fueled in part by the growing acceptance of mobility throughout the armed forces.
"Militaries understand now, more than ever before, the benefits of a connected military acting on data-driven insights to outmaneuver enemy combatants," Matthew Hopkins, a VDC research associate, noted in the report. "The growth of sophisticated and inexpensive mobile devices and solutions fuels this network-centric approach to warfare."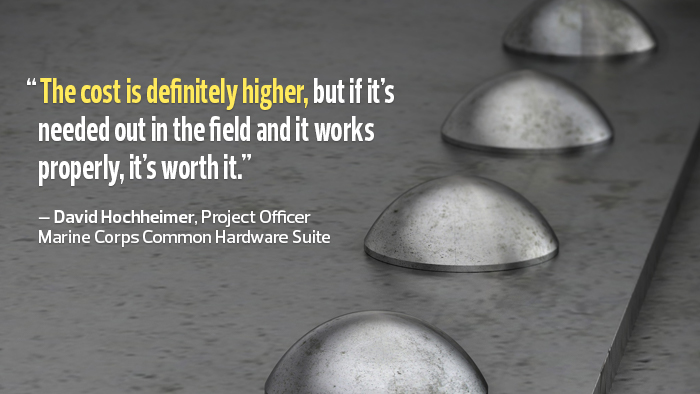 Military-grade mobile devices ­incorporate many commercial components found in standard civilian models, but to meet stringent survivability criteria, they must conform to the U.S. military's MIL-STD-810G, which sets minimum requirements for withstanding physical shock, vibration, dust and sand contamination, and extreme temperatures. To become certified, designs must pass a series of stress tests, including being able to work reliably after being dropped multiple times from a six-foot height. Only a handful of vendors offer devices that successfully blend this combination of commercial and military-grade specifications, military officials say.
While commercial devices now represent the majority of military procurements, the technology exchange isn't a one-way street. Best practices developed by the Marine Corps, Air Force and Army for mobility under extreme conditions can help all IT decision-makers more effectively choose and deploy mobile devices.
The Need for Versatile Mobile Devices
"If you were to ask where our operating environments are, I'd say, just take a globe and spin it," says David Hochheimer, project officer for the Marine Corps Common Hardware Suite procurement contract. "Wherever the globe stops, that's where the Marine Corps may go."
To achieve ruggedness and mission suitability, Corps leaders consider a number of factors:
One size doesn't fit all. Rather than dictating a single device for Marines to use, the Corps offers choices to match requirements. Options include ruggedized notebooks with full-sized screens and internal solid-state drives, such as the Panasonic Toughbook CF-31. Also available are hardened convertible tablets with 10- or 11-inch swivel screens, such as the Panasonic Toughbook CF-19 or the Getac V110. The Marines also have smaller, ruggedized tablets with 7-inch screens, such as the Getac Z710, that are small enough to slide into a cargo pocket. No matter the form factor, all the devices run Microsoft Windows, Hochheimer adds.
Keep a close watch on commercial developments. Over time, Hochheimer expects more devices to be manufactured like Microsoft's Surface Pro 4, which, although it's not a ruggedized platform, shows how internal components can be embedded into motherboards without the need for discrete components and connectors that must be individually protected from physical damage. "I think that's being done for manufacturing efficiency," he says. "But I would hope that having fewer internal components hanging off the motherboard also makes systems more durable."
Understand the trade-offs that come with ruggedizing. Rugged isn't always better, which is why IT buyers must understand the needs of individual users. Rugged notebooks may tip the scale at 9 pounds, a hefty weight compared with most general-purpose models. Even some ruggedized tablets weigh two or three pounds more than traditional models.
In addition to adding weight, the extra engineering is expensive. General purpose notebooks used by the Marine Corps cost approximately $1,000 each. Ruggedized models with comparable computing capabilities are more than twice that, at about $2,300. "The cost is definitely higher, but if it's needed out in the field and it works properly, it's worth it," Hochheimer says.
Ruggedness on the Ground or in the Air
In addition to performing reliably in extreme temperatures and in wet or dusty conditions, mobile devices for the Air Force must also pass military tests simulating the low-pressure ­environments found at high altitudes. "A rugged system must work anytime it's needed to accomplish a mission," says Mark Spain, an execution team member with the Air Force's IT Commodity Council (AF ITCC), which manages activities related to commodity technology.
He and his colleagues say finding the right mobile devices takes more than reviewing technical specifications. The council's members collaborate closely with users to determine their needs and gain consensus on what devices to support. To do this, the AF ITCC acts as a steering committee to determine appropriate configurations of mobile equipment. The council includes representatives from every major command, who present requirements based on their individual use cases and then vote on new ruggedized notebooks, convertible ­tablets and smaller tablets to be offered to Air Force personnel.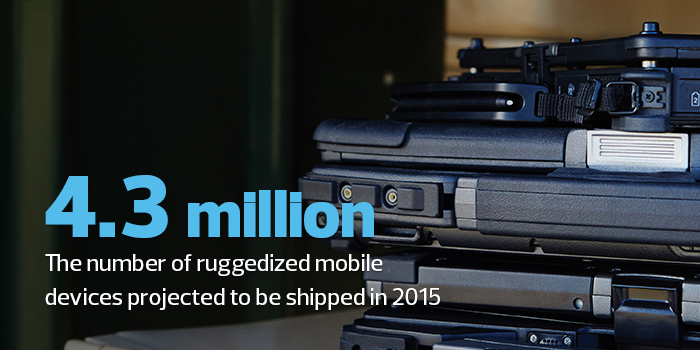 SOURCE: VDC Research, "Q3 2015 Rugged Mobile Hardware Market Overview," December 2015
The council conducts market research to affirm that these capabilities are, in fact, available in the marketplace. "The contracting staff will communicate those requirements to vendors, and the vendors will submit proposals to us to start the selection process," says Charles Elgin, lead engineer for the AF ITCC.
The council's members are careful to conduct extensive research before making a purchase. While commercial components are economical, manufacturers can't simply insert them into a hardened case to produce a military-grade mobile device. Internal design considerations are ultimately the key to reliability. "Any component that rises above the motherboard, such as a capacitor, must be ruggedized," Spain says. "If there's vibration or a shock, those pieces may bend over time and eventually fail."
Solid-state storage drives, which don't use spinning disks that may be damaged in the field, have also enhanced reliability, he adds.
While third-party laboratories certify that specific pieces of hardware meet MIL-STD-810G requirements, Air Force technicians perform additional testing on each device when it arrives to confirm that it meets the contract's configuration requirements for processors, memory, storage capacity and Windows compatibility. "We also perform driver regression testing and other analyses to ensure that the system is compatible with the Air Force network," Elgin says.
Rob Culpepper
More On