FEMA, Census Bureau Plan to Go Mobile and Rationalize Their Device Portfolios
By streamlining their device footprints, agencies can make IT management easier and also enhance cybersecurity.
The days of federal workers carrying three different devices are fading fast. For some agencies that envision a simpler, more streamlined mobile environment, that future is now.
By simplifying and modernizing their device portfolios, agencies are hoping to attain several benefits beyond merely reducing costs.
As agencies streamline their device portfolios, it becomes easier for their IT departments to train users, manage devices in the field and troubleshoot problems, because IT managers are required to deal with fewer device configurations, federal officials and analysts say.
Additionally, simplifying and modernizing their device footprints has helped agencies such as the Federal Emergency Management Agency (FEMA) and the Census Bureau to ensure security, because older devices may not be compatible with new security software and updates. By streamlining their mobile environments, agencies can deliver updates in a more uniform way. That can even help agencies improve the security of their mobile deployments, says Bryan Bassett, research analyst for enterprise mobile device solutions at IDC.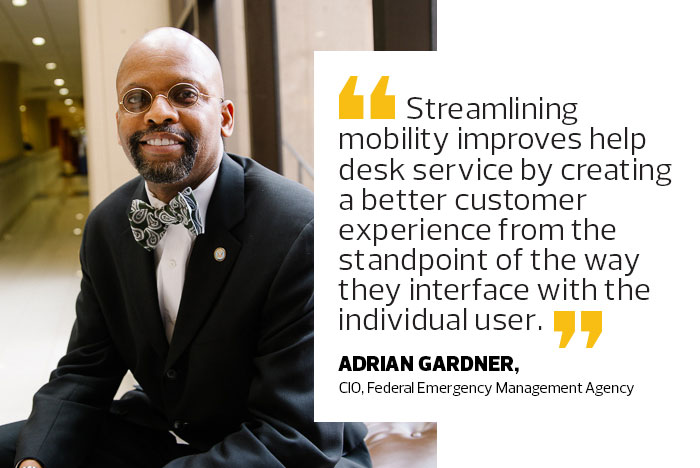 Forging a Mobile Workforce 
FEMA Administrator Craig Fugate is pushing for every agency employee and contractor to be an "expeditionary" user who can grab a mobile device to perform his or her job in the field, says agency CIO Adrian Gardner.
In 2015, Gardner says, FEMA had between 200 and 300 different hardware configurations in its device portfolio. That number has since dropped, and the agency has purged any device that was more than 4 years old from its environment.
Gardner's goal is to standardize on three to five different hardware configurations that include notebooks. He wants most users to carry only two devices: a smartphone and a light tablet that can edit documents and send email.
In June, FEMA launched a pilot program to test such a tablet, Gardner says. The solution needed to support personal identity verification cards for security; only a few tablets on the market have embedded support for PIV cards.
FEMA is soliciting feedback from users participating in the pilot, and Gardner acknowledged that the agency is struggling to balance several factors, including functionality and usability, as it adopts tablets.
FEMA workers are often in disaster zones without access to power, so the tablet in the pilot has an extra battery that can provide 12 hours of life. The devices also need to be rugged to handle the elements. Gardner says FEMA may test other tablets, with the aim of deploying an enterprise tablet solution in the third quarter of 2017.
Other agencies are also simplifying their device environments with mobile in mind. The Census Bureau's device portfolio will grow in terms of the number of devices it expects to deploy before the 2020 census, with the specific number to be determined through research and testing. However, the agency is streamlining its device portfolio in other ways.
Kevin Smith, the Census Bureau's CIO and associate director for IT, says that for 2020 census workers, the agency wants to deploy a single operating system platform "to streamline device management and mobile app deployment."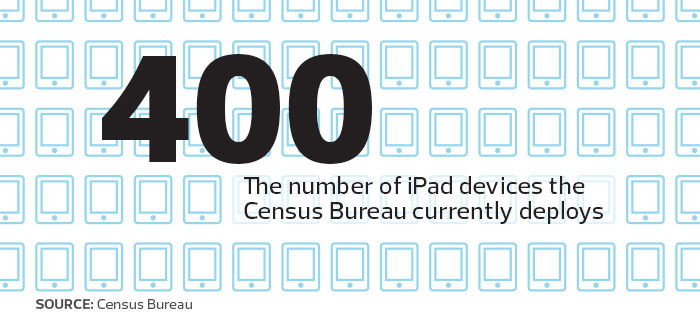 For the majority of its office staff, the Census Bureau wants to use notebooks as the primary device to enable desk sharing, full compliance with security protocols, access to software development tools and remote work. Field representatives will continue to use notebooks because of the specialized software needed for current surveys, Smith says. But for the 2020 census, enumerators will use smartphones as their primary devices, and supervisors will use tablets. The Census Bureau plans to complete all changes by fall 2018, which it considers the start of the decennial "lockdown," says Smith. "At that point, we will have determined what devices will be used at headquarters, offices and in the field," he says.
Boosting Device Portfolio Simplicity and Security 
Agencies can receive numerous benefits by streamlining their device portfolios. By making the device footprint more uniform and modernized, IT teams can ensure that the devices support agency software, Gardner says.
Simplifying and reducing the number of devices also eases the strain on IT help desks. In a streamlined environment, help desk staff don't have to know how to handle dozens or even hundreds of device configurations. "It's a better customer experience from the standpoint of the way they interface with the individual user," he says.
Bassett, the IDC research analyst, says that moving to a smaller, simpler devices portfolio can also enhance security.
"If we're talking about just smartphones and tablets, then you don't have to worry about managing a whole set of protocols for notebooks or PCs. That can certainly increase security," he says.
Basset adds that reducing the number of devices and operating systems an agency uses also makes updating devices easier.
"When an update or an application needs to be pushed out to users, you're not fiddling around with multiple versions or configurations of essentially the same application," he says.
John Davis