The Future of the Pentagon's DIUx Unit Seems Bright
The Defense Department's Defense Innovation Unit Experimental keeps pushing ahead on the frontiers of tech — and has the backing of Defense Secretary James Mattis.
The Defense Department, as the world's largest bureaucracy, might not be what leaps to mind when one thinks of innovation. However, Defense Secretary James Mattis believes that shouldn't be the case, and he is throwing his weight behind Defense Innovation Unit Experimental (DIUx), the DOD unit that invests in and partners with innovative tech companies to help serve the Pentagon's mission.
DIUx is investing more money in more projects and is pushing ahead in areas like artificial intelligence, IT innovation and more. The unit has the potential to accelerate technology innovation inside the DOD, especially because Congress has granted DIUx "other transaction," or OT, authority, which gives it the "ability to rapidly and flexibly purchase commercial innovation and vet its applicability to military missions," a DOD press release notes.
Perhaps just as important at the start of a new administration, the unit has the backing of a key leader. "I don't embrace it; I enthusiastically embrace it," Mattis said while on his way to the West Coast to see DIUx's Silicon Valley outpost earlier this month, FedScoop reports. "And I'm grateful that Secretary Carter had the — had the foresight to put something in place to anchor the Department of Defense out there."
"There is no doubt in my mind that DIUx will not only continue to exist, it will grow in its influence and its impact on the Department of Defense," Mattis added during his visit, according to the release.
SIGN UP: Get more news from the FedTech newsletter in your inbox every two weeks!
Creating Hubs of Innovation for the DOD
Former Defense Secretary Ash Carter launched DIUx in August 2015, but the unit stagnated and in May 2016 Carter launched DIUx 2.0, with new leadership under Raj Shah, a former U.S. Air Force F-16 pilot who served as special assistant in the Office of the Secretary of Defense. Shah also worked for several Silicon Valley tech firms, including Palo Alto Networks. The unit opened its first office in Google's hometown of Mountain View, Calif., and opened outposts in Boston and Austin, Texas, in July and September 2016, respectively.
Mattis suggested that Shah has influence with the Pentagon's leadership, according to FedScoop. Shah is working regularly with Deputy Secretary Patrick Shanahan and will even "have direct access to me," he said.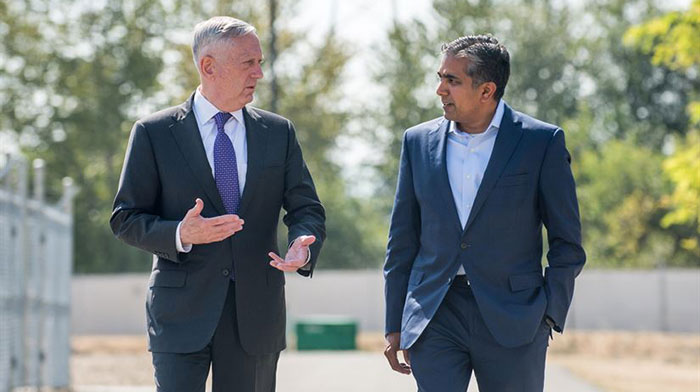 Defense Secretary Jim Mattis speaks with Raj Shah, the managing partner of DIUx. Photo credit: DOD, Air Force Staff Sgt. Jette Carr
According to the Pentagon, more than 450 companies from 39 states have competed for DIUx contracts, and DIUx has awarded $100 million in contracts for 45 pilot projects since June 2016. Those figures are up from 25 contracts worth $48.4 million as of March 31, according to DIUx's second-quarter report.
"[I'm a] big admirer of what they do out there, about the way they germinate ideas, the way they harvest ideas, from one breakthrough, rapidly, to another, and that — so I'm going out to see what we can pick up in DIUx," Mattis said about his trip, FedScoop reports.
Chris Kirchhoff, a managing partner with DIUx, tells Defense News that the unit was set up to prove a theory: that the DOD could develop closer ties with the tech sector with its local hubs near tech centers. Now, he says, "we've proven the theory."
DIUx Forges Ahead with AI Investments
One area that DIUx is investing in is artificial intelligence. Mattis thinks that the Pentagon needs to make more advances in that tech arena.
"It's got to be better integrated by the Department of Defense, because I see many of the greatest advances out here on the West Coast in private industry," Mattis tells Wired.
Earlier this month DIUx awarded AI startup SparkCognition the first phase of a contract to provide technology to analyze Air Force budgeting procedures. DIUx and SparkCognition will use machine learning and similar AI techniques to analyze and reveal latent relationships within data across the Air Force.
As Defense News reports, the technology will be used to analyze decisions "and track their effects at micro and macro levels."
The publication reports:
Using operational data from the Air Force, an algorithm will aid in the planning, programming, budgeting and execution process, the method by which the Department of Defense allocates funding. Technology common to SparkCognition's product SparkPredict will compete with other companies in the first phase of the contract process. The technology will be used to ingest Air Force data and build a model to aid in decision-making.
icholakov/Getty Images