Review: Veeam's Availability Suite Makes Backups Easy
With only a few clicks, agency tech staffs can set the backup jobs they need.
Veeam Availability Suite has long been considered one of the best backup and recovery software systems, and it builds on that reputation in its latest release.
The company's leadership team has long emphasized ease of use. That focus is evident from the outset. Veeam boasts its users can start a backup or replication job within 10 minutes of downloading the software.
I put this claim to the test on a difficult machine: a Windows 2008 R2 server running Hyper-V with three RAID 5 1-terabyte drives. I had the software running in just over six minutes and kicked off my first backup job in just over two minutes. Such speed would be critical for any agency that finds itself recovering from a disaster, when time is of the essence.
The test also showed Veeam could grind through an older server. It backed up my virtual server, with 155GB of data, in just over two hours and compressed it into a 115GB file. Better yet, it identified the reason for any slow-going: My machine was starved for resources.
Veeam Offers Both Usability and Security 
Adding storage arrays and cloud storage to Veeam isn't difficult, either. Many jobs are wizard-driven: Enter a few details, and voila! You have a new place to store backup files. Backing up to the cloud is similarly easy, whether it's direct to a remote backup server or through a proxy. Users can also restore virtual machines to Microsoft Azure.
For those worried about ransomware, staff can combine Availability Suite with Veeam's Endpoint Backup to archive agency laptops and desktops. IT teams can back up endpoints to an external hard drive or they can use a network shared folder or a Veeam repository.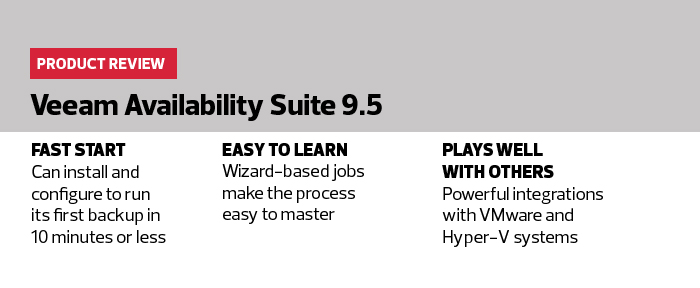 Version 9.5 allows staff to restore individual files or mailboxes right from the storage snapshot. In addition, integration with Microsoft Resilient File System will save agencies time and money by using pointers to perform incremental backups. Better yet, Veeam can truncate SQL and Exchange logs, and exclude specific files and folders. This means IT staff can back up critical files or folders more frequently.
For agencies looking to back up efficiently, Veeam's latest Availability Suite makes the choice simple.
How Veeam's Availability Suite Can Improve Data Integrity
Beginning with Windows Server 2012, Microsoft introduced its Resilient File System. The next-generation file system is designed to maximize data availability, scale efficiently across diverse workloads and provide data integrity by resisting corruption.
Veeam Availability Suite 9.5 takes advantage of ReFS, providing:
Shorter backup windows and lower backup storage load
Reduced backup storage capacity consumption
More reliable data archiving with protection against silent data corruption 
During backup jobs, Veeam Availability Suite and Microsoft ReFS work together to maximize efficiency. Veeam takes advantage of ReFS by simply using pointers to the incremental backups and full backup to create a "virtual" backup that is simply a collection of pointers. No actual data is written to the array.
This process saves storage space and time as well. In one example, 28 restore points (full + incremental backups) needed to be cobbled together to create a new legacy synthetic backup, taking over five hours to create. Leveraging Microsoft ReFS, Veeam Availability Suite 9.5 accomplished this same task in just minutes.
Veeam Availability Suite 9.5
Platforms: VMware vSphere; VMware ESXi; Microsoft Windows Hyper-V
Memory Required: 4GB RAM, plus 500MB RAM per concurrent job
Hard Disk Space Required: 2GB for product; 10GB per 100 VMs
License: Per socket, per VM host; unlimited guest VMs
License Length: One year
cookie_cutter/Getty Images