How Government Agencies Can Leverage Social Media Internally
Social media tools facilitate collaboration, communication and knowledge-sharing.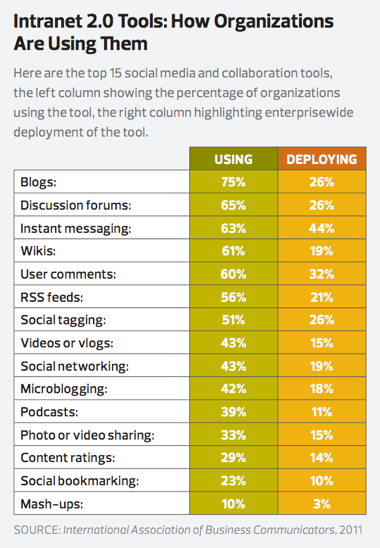 Although social-as-business-tool discourse has largely centered on customer engagement, many experts believe the biggest advantages from social technology will derive from its applications within the enterprise. Even though a number of social media categories span both external and internal functions, they differ in terms of users and how they're applied. Meanwhile, there are also social platforms and tools developed to deliver benefits to internal activities that are distinct from those designed to target external processes.
In external engagement efforts, for example, marketing, service or sales professionals use social-targeting technologies that enable them to monitor conversations, analyze sentiment and review metrics (such as likes, followers and retweets) to better understand their influence and reach. These groups reactively respond to direct requests for brand information or service sent through popular social channels (typically, Twitter, Facebook and LinkedIn).
When possible, they proactively reach out to users who tweet about a product's shortcoming or post a complaint in a community forum, asking them to contact the appropriate departmental team or sending them links to content that addresses their issue.
Within the enterprise, workers use social media tools primarily to facilitate collaboration, communication and knowledge-sharing across a range of business activities, and take advantage of efforts by the IT group or other tech-savvy coworkers to "socialize" certain business processes.
Download our free white paper Social Media Collaboration here.
In some cases, IT departments upgrade their existing intranet by integrating social tools, including popular social networks such as Twitter. Others choose to build a social intranet based on Microsoft's SharePoint collaborative platform, while still others are rolling out Intranet 2.0–related communication, collaboration and sharing functionality through commercial enterprise social network platforms such as Cisco's WebEx Social, IBM's Connections, Microsoft's Yammer and Salesforce.com's Chatter. Some other enterprise social tools regularly used by workers include wikis, blogs, microblogs, social tagging, user comment options and discussion groups.
In what kind of situations are social collaboration tools proving themselves? The scenarios are numerous, but consider this one: A salesperson in a midsize generator-manufacturing firm needs to model various sales forecasts and have the figures done by the end of the day. He opts to complete his task with Excel. But he doesn't get very far; every time he saves a change the program freezes and he has to quit.
Extremely frustrated, but remembering his long wait in the phone queue the last time he called the help desk, he opens Yammer and posts a short request for advice to his fellow employees. Shortly after, a woman from the organization's communications office responds and details her own recent issue with the spreadsheet and how she resolved it.
His reach out to his colleagues obviated the need to call the help desk. The upshot: The help desk saved money, as it doesn't use charge-back for transactions, while the salesperson saved time.
McKinsey Global Institute analysts estimate that organizations will see twice as much value from leveraging social technology within the enterprise as outside of it through improved collaboration, communication and knowledge-sharing. By improving these activities through strategic social technology implementations, according to McKinsey, organizations could potentially increase the productivity of their knowledge workers by as much as 25 percent.
<p>Image courtesy of arztsamui / <a href="http://www.freedigitalphotos.net" target="_blank">FreeDigitalPhotos.net</a></p>
More On