The Army Brings the Cloud to the Battlefield
By moving its real-time intelligence system to the cloud, the Army will improve situational awareness for soldiers in combat.
A real-time picture of the battlefield is an essential tool for U.S. combat forces, one that can provide a critical advantage over adversaries. If used effectively, information can be as important a weapon as any in the U.S. arsenal.
The Army compiles this picture by sifting through petabytes of data, such as high-definition video from unmanned aerial vehicles (UAVs) as well as from cameras on the ground or attached to soldiers. But putting the picture together and learning what it means can take hours, a time span that could mean the difference between life and death.
The Army plans to speed up the process by equipping combat troops with small cloud computing systems that can quickly analyze extensive video footage and other intelligence to warn soldiers of impending threats. The tactical edge cloud nodes, combined with advanced analytical tools being developed, will automatically collect, process and analyze the video within seconds, providing commanders with better situational awareness and improving their ability to make informed decisions quickly.
The new technology tools will be part of an existing intelligence system, the Distributed Common Ground System–Army (DCGS–A), which the Army is updating and moving to a private cloud.
"We realize that a brigade commander is going to deal with tons of data, especially with the next-generation sensors that will be at the forward edge of a battlefield. They are not able to have all that bandwidth sent back over the network, process it and send it back again," says Col. Charles Wells, project manager of DCGS-A. "You really need cloud computing at the tactical edge to deal with this massive amount of sensor data in the battlefield. It allows you to quickly store, analyze and process it and provide powerful answers to the commander."
Like other federal agencies, the Defense Department is embracing cloud computing to take advantage of the benefits it can deliver: cost savings, increased flexibility and scalability, mobility and improved security. But the military isn't focusing only on enterprise systems; it's also concentrating on the battlefield.
The Army is at the forefront of using the cloud in battlefield situations, having first deployed a cloud computing node at Bagram Airfield, Afghanistan, in 2011 to provide an Army headquarters location with real-time intelligence via DCGS-A. Now, the service is working on its next-generation version of DCGS-A, which will largely be built using cloud-based software and installing cloud nodes in regions across the world.
DCGS-A can query, sort and analyze tens of millions of textual intelligence reports in a matter of seconds.
SOURCE: U.S. Army
The Army is working closely with the intelligence community and other Defense Department partners, including the Navy, in developing cloud-based systems for battlefield intelligence, says Russell Richardson, senior science adviser of the Army Intelligence and Security Command.
In fact, the Navy is piloting its own Navy Tactical Cloud, which would support tactical edge systems.
"There will be some very good tactical and operational capabilities provided by the cloud, but it's at the early stages," says Navy CIO Terry Halvorsen, in reference to the Office of Naval Research's activities to develop a Navy Tactical Cloud.
"Obviously, it's a scenario where we want to be very careful. We will take smaller steps and be a little more careful with our tactical combat data than, say, some of our business data."
The Army's Approach to Eliminating Stovepipes
DCGS is a Defense initiative designed to integrate the Army, Air Force, Navy and Marine Corps' intelligence, surveillance and reconnaissance systems, so the military can rapidly share critical intelligence, Wells says. Because the federal agencies have unique requirements, they have built their own DCGS systems, but they are using a common framework, database and standards to make sure they interoperate, he says.
The Army's intelligence system, DCGS-A, was launched in 2005 and integrates nine previously stovepiped intelligence systems. Today, it houses 640 different sources of data, from space-based, airborne and terrestrial sensors to human intelligence. The system features 131 million pieces of data and includes every intelligence report since 2004.
"Before DCGS, you had to go to a lot of different places to get little pieces of the answer," Wells says. "Now, you have access to all the sensor data from all over the world. The disparate types of data are tied together, and what you can do is look at the big picture."
Army leaders say DCGS-A played an integral role during the Iraq and Afghanistan wars, allowing analysts to quickly produce actionable intelligence. The system is largely built using fixed sites and mobile units, with the technology infrastructure mounted on trucks.
In 2011, the Army deployed one cloud computing node in Afghanistan in response to an influx of tactical reports and an urgent need for advanced analytics to warn soldiers of potential improvised explosive devices. The temporary cloud nodes — a 20-foot container that provided more than 1,800 cores of processing power, a petabyte of storage and almost 14 terabytes of memory — were the first tactical deployment of cloud computing in the DOD, Wells says.
"We put the cloud node in Afghanistan because we wanted to have a local, robust capability for all the data that was coming in," he says. "It was a pilot capability, but it allowed us to comb very large data sets and provide meaningful answers."
Under a Cloud of Criticism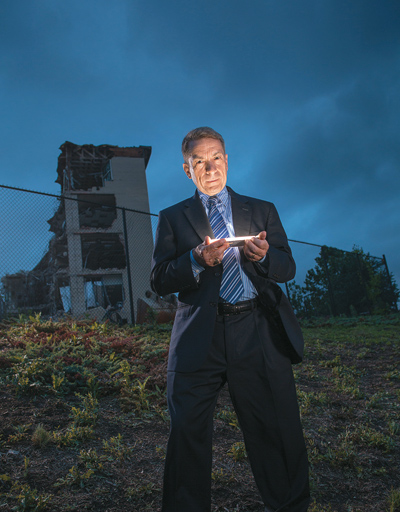 Photo: Gary Landsman
Standardization is an essential part of the Air Force's cloud migration efforts, Frank Konieczny says.
DCGS-A has faced some recent criticism, however. In early summer, published reports cited unnamed sources who said the intelligence system does not work and that some users were frustrated with the system.
Richardson disputes the allegation. "Users that I've talked to on a daily basis have been very happy with the performance and the capabilities they are receiving out of DCGS-A," he says. "The only criticism I have received is that they would like to get more of it and receive the latest versions as soon as they are available, and they would like to get more training, so they can use more of the capabilities that DCGS-A offers them."
Meanwhile, the Army is upgrading and enhancing DCGS-A with state-of-the-art technologies, which officials say should address many concerns about the system.
Bolstering DCGS-A
The next iteration of DCGS-A will largely be cloud-based, a transition that will take about three years, Richardson says. In December 2013 or January 2014, the Army will launch a pilot by deploying four initial cloud nodes — one in Fort Gordon, Ga., and three in Ground Intelligence Support Activity locations around the world, he says.
The cloud infrastructure — built on commercial hardware — will run a mix of commercial and open-source applications, including Apache Hadoop, which allows for large-scale data analysis; Apache Accumulo, an open-source database; and Twitter Storm, an open-source framework for real-time analytics.
"Right now, each of these locations has the hardware installed, but that hardware is being conditioned and prepped to host cloud software," Richardson says.
Army officials say they are migrating DCGS-A to a private cloud for several reasons: to improve redundancy; to improve capacity; to ensure good quality of service for users who are geographically dispersed; and to improve agility by providing intelligence to soldiers on the battlefield, where they need it most.
"What you are seeing is the demands of Big Data driving cloud usage," says Alex Rossino, principal research analyst for Deltek.
The Army's Communications-Electronics Research, Development and Engineering Center (CERDEC) is testing tactical edge cloud nodes at Network Integration Evaluations at Fort Bliss, Texas, where soldiers test and refine new technologies. Once the tactical edge nodes are ready in the coming years, DCGS-A's Wells intends to deploy them to brigade combat teams.
These next-generation cloud nodes will be fabricated into the size of toaster ovens and can be embedded inside armored vehicles or in UAVs, says Alan Hansen, division director of Intelligence Systems and Processing at the Army's CERDEC Intelligence and Information Warfare Directorate.
On the battlefield, troops can face spotty network connections or low- bandwidth conditions, making it difficult to send large amounts of data over the network for storage and processing. Tactical edge cloud nodes solve that problem by storing and processing the data at the tactical edge, Hansen says. "We no longer have to move all that information. We can process the data where it's collected."
CERDEC is also working with vendors to develop DCGS-A's next-generation software to allow for quick querying, sorting and analysis of the intelligence data it compiles.
Most or nearly all the capabilities will be cloud-based, but some capabilities may not be integrated into the cloud for security or legal reasons, Richardson says. The new DCGS-A software will also address current shortcomings of the system. A June report by the Government Accountability Office said the system was not easy to use and that it was vulnerable to cyberthreats.
The Army will evaluate every version of the cloud-based software with users, and through the lessons learned, developers will improve the software over time.
"The capability will be stood up and matured over a three-year period, so that the user interface is appropriately built, all the data is appropriately ingested in the cloud, and all the security aspects are worked out," Richardson says. "As we mature the capability, it will be deployed to our users."
One application CERDEC is developing is advanced analytics software that will vastly improve the systems' ability to quickly analyze high-volume, disparate pieces of data and provide combat troops with actionable intelligence, says Robert Czajkowski, project lead for the Tactical Cloud Integration Lab at CERDEC's Intelligence and Information Warfare Directorate.
"Instead of spending hours looking for two seconds of critical information, back-end analytics can make this happen in seconds," he says.
Gary Landsman
More On