DHS Backs Research into Wearables that Track First Responders
The new kid on the IoT block: sensor-based wearable technology.
One day soon, local firefighters could be wearing shirts that track their heart and breathing rates, movement and exact location within a burning building. The Department of Homeland Security recently funded a program by two Internet of Things (IoT) tech development companies, Hexoskin and SensorUp, to demonstrate sensor-based wearable technology for first responders.
Smart Shirts Are Coming 
Canada-based Hexoskin developed its smart shirt to effortlessly monitor the wearer's health. "The shirt's built-in cardiac and respiration sensors measure how fast and how deeply you breathe," says Hexoskin CEO Pierre-Alexandre Fournier. "It's actually the only product in the world that can measure breathing without having to put something on the head or face." The shirts also track movement type, number of steps taken, and sleep positions and cycles.
Hexoskin has worked with a number of federal agencies, including the U.S. Navy, on sleep assessments and other health monitoring projects.
"We see Hexoskin playing a holistic role in managing the health of personnel within the military, whether it be training to prepare for a mission, a health assessment or to evaluate their condition during deployment," Fournier says.
The company was pleased to join forces with SensorUp and DHS to test a system using the smart shirt for first responders. "SensorUp has developed a monitoring platform, and we've worked with them because they use our shirts for vital-signs monitoring."
Fournier expects to see more ­widespread use of wearable health ­monitoring technologies.
"IoT-connected objects will be part of the technology we use to be in contact with health professionals on a daily basis," he says. "We see the future of health as being a lot more decentralized and personalized, and we're excited to be part of this."
Analyzing Data from Multiple Devices
Currently, IoT lacks a centralized ­platform for monitoring and sorting data from various devices. SensorUp, another Canadian technology company, is helping to solve that problem by ­introducing an open-source cloud ­platform to link a variety of devices.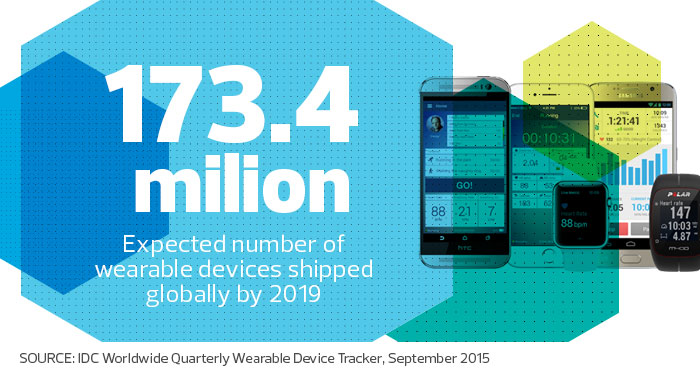 "Our vision is to make the IoT more open and interconnected," says SensorUp CEO Steve Liang. "Right now, the number of apps is equal to or larger than the number of sensors. That is ridiculous, especially for first responders, who need to see everything at a glance."
SensorUp partnered with Hexoskin and nearly 40 other IoT device manufacturers to create a platform for monitoring the status of first responders in almost-real time (with a one-second delay).
"We connect gas, air quality and smoke sensors, wearable cameras and drones," Liang says. "We can track the condition of the air the first responders are breathing and what they're looking at, along with their vital signs."
Hexoskin