A Chatbot Is Here to Help
Your next interaction with the federal government may be via a chatbot.
Citizens who crave a cigarette or are struggling to kick a nicotine habit could find an unexpected ally on their phones: Facebook.
The National Cancer Institute is finalizing a Facebook chatbot that visitors can go to for help quitting smoking. By simply messaging a few phrases, the user could receive words of encouragement and helpful advice.
This technology is one of a series of experiments the federal government is conducting with chatbot technology.
Last August, the White House launched perhaps the government's most public venture when it introduced a way to send messages to the president. At the same time, Twitter and Facebook have pushed businesses and organizations to use artificial intelligence–driven assistants for customer service, and bots saw widespread use during the 2016 campaign.
"The chatbot will serve as both a tool to help smokers during times of high craving or temptation to smoke, and as an interstitial app, a resource designed to fill empty spaces in a smoker's day in a way that supports quit attempts," says Erik Augustson, program director of the Tobacco Control Research Branch's Behavioral Research Program at the National Institutes of Health.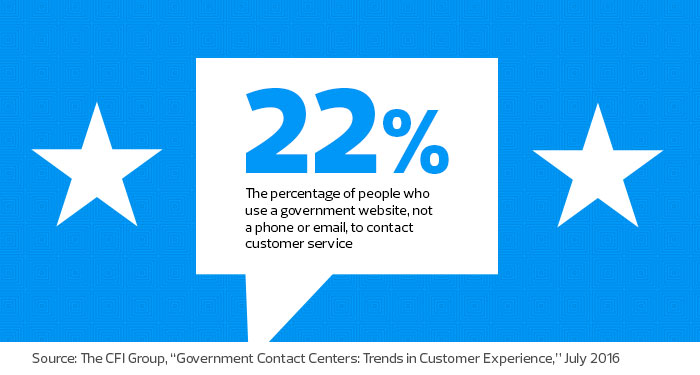 The office is verifying that its forthcoming Facebook bot meets security and privacy standards, Augustson says.
Chatbot adoption among government agencies generally has been sluggish outside of use for in-house functions.
For example, the Mrs. Landingham Slack bot — named after the president's secretary in The West Wing — helps steer employees in the General Services Administration's 18F digital shop.
The real payoff, however, should come in the form of smoother citizen/government interactions, the kind that often jam phone lines today. GSA held a conference in June to encourage this behavior. Amy Webb, CEO of the consulting firm Future Today Institute, endorsed the concept, suggesting that an IRS bot could yield "a more conversational way of answering questions about taxes," but added she expects chatbots to be deployed as "digital diplomacy" to counter fake news.
Executive Tech Experimentation
Last fall, the White House experimented with a bot on its Facebook page. Developers did not make this bot a conversation partner to answer queries about White House tours or trivia. Instead, when users started a message for the president, the bot walked them through sending a note and greeted them with programmed enthusiasm: "It's great to hear from you."
Josh Miller, the former director of product management for the White House's Office of Digital Strategy, says the idea was to "meet citizens where they are." Facebook's popularity made it an obvious addition to the traditional ways to contact a president.
"Serendipitously, around the time we were thinking about this, a lot of different bot technologies came out," Miller says.
The bot has not been operational since the presidential transition, but its use led to an unexpected tangible result: In August, the White House noted President Obama appreciated one message enough to write back — on paper.
More On