Why Feds Are Embracing Responsive Design
OMB wants agencies to prepare their websites for a new generation of mobile users.
To avoid alienating a growing cadre of smartphone and ­tablet users, the Office of Management and Budget replaced its ­2004-era guidelines for ­federal ­websites in the hope of creating more mobile-friendly digital offerings.
In November, the White House memo "Policies for Federal Agency Web Sites and Digital Services" asked organizations to make much of the information already available to desktop users accessible on mobile devices as well. The memo was signed by then-CIO Tony Scott, among others, and gives most federal agencies six months to­ ­complete the job.
Although many agencies make at least some of their information mobile-friendly, here are several steps to ensure a smoother, more complete transition.
Changing Size for Mobile
The OMB memo states that agencies should ensure their public websites work "equally well on non-desktop devices such as mobile devices and tablets." For new agency websites or those ­undergoing major redesigns, organizations should consider responsive design, a process that requires developers to build web pages that can detect visitors' screen size and orientation, then optimize the layout accordingly.
The Centers for Disease Control and Prevention makes the most of its mobile web content via responsive design and a combination of HTML, CSS and JavaScript.
"Many of our users need our content to make health decisions while they're at a pharmacy or supermarket," says Fred Smith, the technology team lead for the CDC's digital media branch. "And 52 percent of our web visits are via mobile devices."
Those figures match national trends. The shift to mobile has been a long time coming. A May 2012 White House memo lays out a philosophy to make government information available on mobile devices, while the "Digital Service Playbook of 2014" suggests more than a dozen key plays based on government and private sector successes in delivering digital services to mobile users. In addition, the Department of Homeland Security's recent "Mobile Applications Playbook" details a roadmap on how to create, test and deploy mobile apps.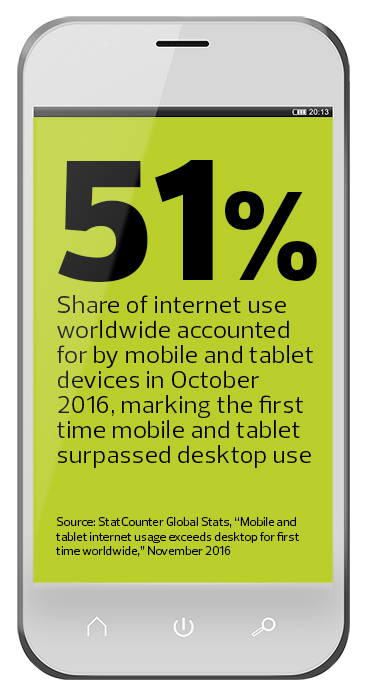 Abdullah Hasan, an OMB spokesman, says the latest memo keeps agency websites "at pace with the government's increased adoption of new technology and innovations."
Turn to Outsiders for Help 
The move to mobile often requires agencies to establish an agile development strategy. By working with a variety of programmers, IT leaders can incorporate contractor expertise, or help from those outside the traditional development process, to ensure their data is accessible and easy to read on all platforms.
Consider the Agriculture Department's National Agricultural Statistics Service (NASS), which conducts weekly, monthly and annual agricultural surveys and publishes more than 500 statistical reports each year.
"When farmers are sitting in a tractor or combine, the way they access information is through their mobile data terminal, smartphone or tablet," says Michael Valivullah, the organization's chief technology officer. "We've been making survey forms, Quick Stats, CropScape and other graphical data mobile-friendly for years."
NASS uses a combination of HTML5, C# and Java for its responsive design work, often depending on a contractor's preference.
"We do as much as we can in-house," Valivullah says, "but we usually need outside help to make our information suitable for all those different endpoints with different formats and form factors."
NASS also relies on an advisory board that consists of customer commodity traders, farmers, ranchers, and ­representatives of other government agencies and private institutions who regularly use NASS data.
The group's feedback ranges from the need for additional graphics, column layouts and colors to usability suggestions for different devices. NASS then uses that information to build mockups and prototypes.
Is a Mobile App Needed? 
Aside from responsive web design, some agencies, such as the CDC, need to develop ­audience-specific, database-driven apps for iOS and Android.
Smith says some CDC users, including those who need access to safety inspection data, often work offline because of slow or nonexistent internet connections. In those cases, mobile apps are a better fit.
In other situations, developing an app may be necessary to take advantage of specific device features, such as smartphone cameras or large quantities of data best stored on an external device.
"Transmitting huge volumes of data on the web is often too slow over wireless," Smith says.
Meet the Deadline
Officials say one challenge in OMB's directive is the six-month deadline. That's why federal leaders stipulate in the memo that the changes should be made "to the extent possible."
"Good mobile development takes time," Smith says. "You have to do a lot of testing for different devices such as phones and tablets and view ports, in portrait and landscape, to get the best result. Make one change, and you have to test everything again."
 
Scanrail/Thinkstock