Review: Brother HL-L8260CDW Is a Small Printer That Takes Care of Big Jobs
Brother's printer lets agencies take care of large print jobs efficiently and securely.
Compared with private sector organizations, the federal ­government's massive printing needs are unusual in two ways. First, its love of paper is part policy, with laws dictating that copies of everything must be kept and stored, and part procedural, meaning that nothing is official until ink hits paper. Even the president needs to sign an actual piece of paper to make a bill a law.
And second, the government is built from large Cabinet departments, each of which is divided into a host of midsize agencies that are carved up into even smaller offices, each with its own printing needs.
The HL-L8260CDW printer from Brother is designed to fill the needs of those small offices in the most efficient and economical way possible. This full-color laser printer is moderately priced, but it comes with features often found only in higher-priced models.
SIGN UP: Get more news from the FedTech newsletter in your inbox every two weeks!
Speedy Delivery of Printed Pages 
Maximum print speed for both color and black and white is 33 pages per minute using ­document quality, 2400x600 dpi resolution. And while standard toner cartridges last for about 3,000 pages, the L8260CDW supports high-yield ­cartridges that can produce as many as 4,500 prints before needing replacement.
Enhanced Security Keeps Documents Safe
Security is a primary concern for any government agency, and the L8260CDW offers several valuable features designed to protect federal data. Print functions can be tied to Active Directory ­services, restricting who can use the printer to output government documents. Individual print jobs can be further restricted by using a password ­— they won't print until a PIN is entered on the base unit.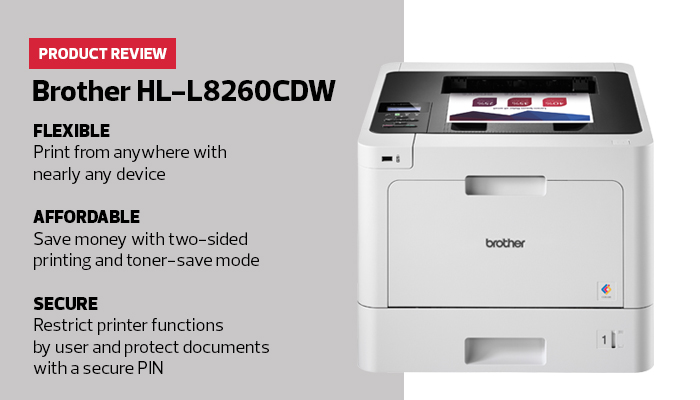 Printing Options Abound for Cost Savings 
Agencies with tight budgets can save money by employing two-sided printing and by setting noncritical documents to output in toner-save mode. In testing, documents printed in toner-save mode were easily readable, if not quite as uniformly dark as is commonly found in regularly printed documents. With its low initial cost, economical features, quick output and onboard security, the Brother HL-L8260CDW printer should appeal to the hardworking, small-office workgroups within many federal agencies.
Print Quality Holds Up to Multiple Speed Tests 
The printer marries good average print speeds with quality and important extra features, such as security, that are critical in government. I put it through several tests at breakneck speeds to see if quality or print times declined at all over time.
The test printer was connected to the lab network using its Gigabit Ethernet 10/100/1000T network port, which is faster than wireless.
The first test was a 30-page, black-and-white, all-text document. This test yielded the only sluggish area for the HL-L8260CDW: It seemed to have a rather long first-page output time. Most printers average about 7.5 seconds for the first print to emerge. The Brother took 12.8 seconds. However, this was the only delay, and it performed at an average of 32 pages per minute over 10 tests.
Moving to color, the story was much the same. First-page-out times were longer, as much as 15 seconds, but the print speeds remained high, at 31.5 pages per minute across all tests.
After the speed tests, all output was examined under a photo loupe. There were no noticeable differences from the first pages printed to the last, 500 pages later — no streaking, smearing, artifact lines or other extraneous marks. The final pages coming out of the Brother HL-L8260CDW were decidedly warmer than the first, as we were really pushing the drum unit hard, but the letters were still all perfectly formed, and the shading and colorization on graphics and photos remained accurate.
Smaller government workgroups can have almost all of their standard and color printing needs fulfilled by the Brother HL-L8260CDW printer without breaking their budgets.
Brother HL-L8260CDW
Max Print Speed: Up to 33 ppm, both color and B&W
Monthly Duty Cycle: 40,000 pages
Processor: 800MHz
Paper Capacity: 250-sheet input tray, 50-sheet multi-­purpose tray
Dimensions: 16.1x19.1x12.3 inches
Weight: 47.9 pounds
Brother