SEC, USCIS Turn to Telework for Flexibility and to Lure Top Talent
Flexible work arrangements that mix remote and office locations help agencies compete for and keep talented employees.
In 2016, federal ­workers in Washington, D.C., found telework more than just a ­pleasant perk; it became a necessity. During the first three months of the year alone, a major blizzard shut down the snow-averse city, and emergency repairs halted the entire subway system for a full day, leaving many workers without transportation.
Emergencies are the primary reason that most federal employees use telework. The Office of Personnel Management's annual report, released in November and covering ­fiscal 2016, found that most remote work happened because of bad weather, closed schools or the need to care for sick children.
But in general, the report also paints a ­portrait of a stable telework environment, albeit one with room to grow. That year, 42 percent of federal employees were eligible for telework, and 51 percent of those employees took advantage.
Robust remote work programs have numerous benefits. Although the OPM report highlights the ability for an agency to carry out its responsibilities in emergency situations that keep workers from their offices, it also states that being able to telework in nonemergency conditions can lead to improved morale and may help the government attract and retain employees considering the private sector.
The U.S. Securities and Exchange Commission first introduced a teleworking option in 1995, well before the first legislation in 2001 required agencies to offer telework. The policy applied primarily to employees with medical issues that made it difficult for them to get into the office, such as a pregnant worker on bed rest, says Helena Inman, the SEC's telework program manager.
"Over the years, our telework program has really grown, especially in negotiating the collective bargaining agreement of 2007," she says. That covers about 3,500 nonsupervisory employees. "In 2013, the expanded program became permanent." Employees who have teleworked two days per week are eligible to apply for three. To apply for four, the employee must telework three days a week for a year. After proving themselves at four, they can apply for five.
SIGN UP: Get more news from the FedTech newsletter in your inbox every two weeks!
Telework Prompts a Collaboration Upgrade
When it comes to the technology to support remote work, the SEC no longer looks simply at "what will work for teleworkers," says Inman.
That change was prompted in part by the agency's structure, says Lacey Dingman, the SEC's chief human capital officer: "We have 11 regional offices and our headquarters in D.C."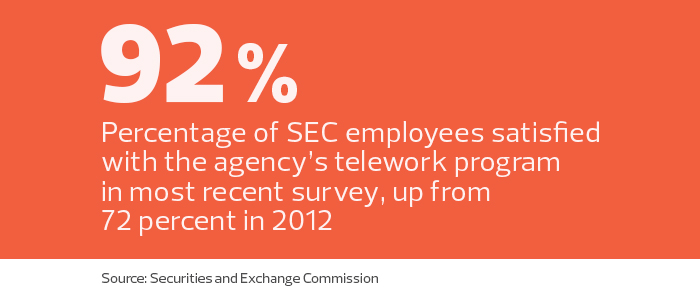 The training that helped managers better manage remote workers, she says, also created a more collaborative environment across the agency's many locations.
In fact, one of the keys to the SEC's program is that the tech inside and ­outside the office is the same. The ­realization took some trial and error.
>>Download CDW's Modern Workforce Insight Report to learn more about how agencies are solving today's collaboration challenges.
"We focused mainly on outfitting the teleworkers," says Dingman, "but what we learned was that we needed to ­provide these tools to the whole agency."
Key pieces, Dingman says, included video cameras which allow face-to-face interaction among distant workers, as well as teleconferencing tools such as WebEx and Cisco Jabber.
"These tools are not specific to teleworkers," she says. "It's great from a collaboration standpoint. When you look at the business proposition behind this, you want to think about how it helps the agency overall."
Agencies Tap Remote Options to Entice Talent
Rick Holgate, director of research on the public sector and the federal government for Gartner, explains that it can be difficult to precisely measure the ROI on a digital workforce initiative in monetary terms.
"You need to collect feedback from employees, too, on the extent to which the digital workplace initiative actually makes their lives better and easier and more productive and engaged," Holgate says. The Agriculture Department is one example.
"The number of inspections you can complete in a week, the number of regulatory interactions you can have, the number of citizen interactions you can have — you can actually measure the increase in productivity in that sense," he says.
Another possible measurement of success: how many workers come or stay as a result.

The U.S. Citizenship and Immigration Services has found that a robust digital workplace and a strong remote work program help the agency compete for workers. Employees are provided with equipment, ­including laptops with videoconferencing, ­servers and basic printers.
"USCIS can recruit from a wider geographic area, thereby drawing on a larger talent pool," explains Gwen Simmons, chief of worklife and employee programs. "Many employees view ­flexibility as a form of compensation."
Telework Helps Offices Stay Productive During Moves
Situational telework can help an agency stay up and running when transportation is disrupted, such as when D.C.'s Metro was closed for emergency repairs with less than 24 hours' notice, when wild weather closes schools or for more prosaic reasons.
When the Institute of Museum and Library Services relocated to its current D.C. office space in March 2016, the agency wanted the staff of 70 to be able to fulfill its mission during the weeklong process, says Giuliana Bullard, a spokesperson.
"The agency acquired ultraportable, touchscreen-enabled Microsoft Surface Pro 3 and Lenovo ThinkPad tablet-style computers and trained staff on the use of their computers offsite," says Bullard.
IMLS staff also planned every step of the move to make returning to the office as seamless as possible. For example, when the server at the original location was shut down after 5 p.m. on a Tuesday, staff members worked overnight to get it operating in the new space, 2 miles away, by 9 a.m. Wednesday. "The agency was able to relocate its office with minimal disruption," she says.
Ultimately, the digital workplace is as much about a mindset shift as it is getting the right technology in place.
"The old mentality around telework, where you need permission to work outside the office environment, where you need to commit up front to the number of hours you're going to spend outside the office — we've seen that gradually disappear," Holgate says.

Ryan Donnell