Retired Space Shuttle's Final Journey Is to Smithsonian
Piggy-backed on a Boeing 747, Discovery embarks on its last flight.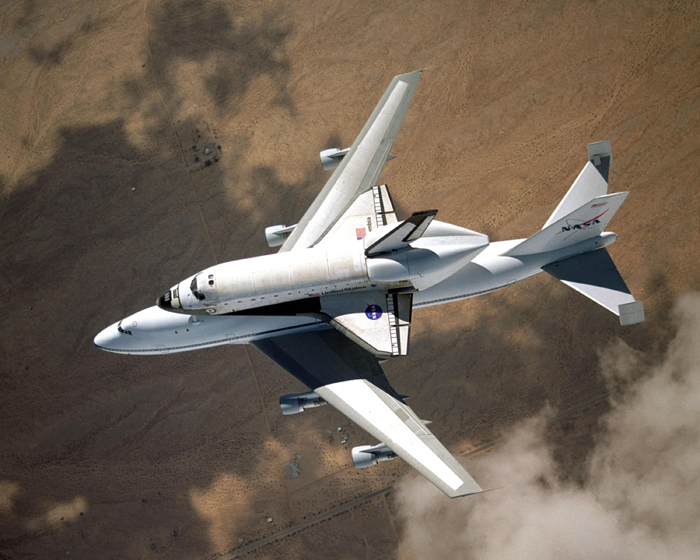 The space shuttles have been transported in the air by modified Boeing 747 planes, known as the Shuttle Carrier Aircraft.
Twenty-eight years after its maiden voyage into orbit, space shuttle Discovery will make its final journey from the Kennedy Space Center in Cape Canaveral, Fla., to the Smithsonian's National Air and Space Museum in Chantilly, Va., on April 17. 
The shuttle has been secured to NASA's customized Boeing 747 and is ready to make the trip. It is scheduled to land at Washington Dulles International Airport around 11 a.m.
Transporting such a massive aircraft is no small feat. NASA is taking no risks with the operation, and the flight will be delayed if the weather forecast indicates that conditions might be poor. The video below shows how NASA workers attach the space shuttle to the modified 747 for the flight.
The 747 and its cargo are expected to make a low flyover of Washington, D.C., between 10 a.m. and 11 a.m., though NASA has not released the official route for security reasons. On April 19, the museum's Udvar-Hazy Center, home to the prototype shuttle Enterprise, will welcome Discovery with a public celebration at 11 a.m.  
Discovery made its first flight in August 1984. The shuttle carried out 39 missions, covering 149 million miles.  Read more about Discovery's career on NASA's website.
See photos of the Space Shuttle flying over Washington, DC here.
Image courtesy of www.nasa.gov.
<p>Image courtesy of <a href="http://www.nasa.gov/">NASA.gov</a>.</p>
More On