Federal Agencies Move Toward Cloud Collaboration
Whether public or private, the cloud provides a stable platform for agencies' unified communications systems
On a recent work night, Malcolm Jackson, the Environmental Protection Agency's CIO and assistant administrator for the Office of Environmental Information, logged in and saw an urgent email from a colleague. Using the agency's new communications software, he saw that the coworker was online and initiated a video conference to resolve the problem.
"I was able to answer his questions from my home while he was at the office, using the video calling feature," Jackson says. "These new tools are enabling us to accelerate the decision-making process. I have easier access to my employees and vice versa."
In February, the EPA migrated from in-house email to Microsoft Office 365, which provides email, calendaring, collaboration and office productivity software over the cloud. The technology not only improves employee productivity, but also reduces costs. While projected savings have not been finalized, the agency initially estimated a savings of $12 million over four years.
Agencies continue to rapidly deploy cloud computing, a trend fueled by their compliance with the federal government's cloud-first initiative and by the maturation of the Federal Risk and Authorization Management Program (FedRAMP), a standardized approach to assess, monitor and authorize the security of cloud offerings.
Cloud services provide numerous benefits for agencies that want to improve the flexibility and scalability of their systems while reducing IT costs. Top benefits include increased IT efficiencies, improved employee mobility, and the ability to innovate and offer new products and services, according to the CDW 2013 State of the Cloud Report, which recently surveyed 1,242 IT leaders.
Many early cloud adopters in the federal government have implemented cloud-based communication software. By moving email and collaboration applications to the cloud, many of these agencies have acquired unified communications capabilities in the process.
UC has many components, but at a minimum, it must provide employees with a single user interface to check the online presence of their colleagues and allow them to communicate through instant messages and voice and video calls, says Ken Landoline, a principal analyst with Current Analysis who specializes in UC and contact centers.
Agencies that have migrated to Microsoft Office 365 or other cloud-based email and collaboration software have those basic unified communications features built in.
Meanwhile, some agencies, such as the Defense Information Systems Agency (DISA), plan to move beyond cloud-based email and collaboration software, seeking to integrate other technologies such as regular phone services and high-end video conferencing systems as part of a larger UC strategy.
42%
of federal agencies were implementing or maintaining cloud services in 2012, up from 29% in 2011.
SOURCE: CDW 2013 State of the Cloud Report
Boosting Collaboration
For many agencies, the first foray into unified communications begins with a need to upgrade antiquated in-house email systems. When the EPA was deciding on a new email system, for example, a big selling point for moving to a cloud-based offering, such as Microsoft Office 365, was that it provided users with a commoditized service at an affordable price while offering a broader set of communications and collaboration capabilities, Jackson says.
Two years ago, the National Oceanic and Atmospheric Administration (NOAA) found itself with 19 aging email systems in offices across the country. "Everyone was hosting and maintaining their own email systems in the field offices, and those systems were at the end of life," recalls NOAA CIO Joe Klimavicz.
In 2011, NOAA consolidated the email systems and moved the agency's 25,000 employees, contractors and affiliates to a public-cloud service. Now, with everyone on the same system, employees can easily find each other on a global address list and schedule meetings on the calendar. And through the email client, workers can check presence, instant message and video chat.
"We have scientists working on cutting- edge science, and now they get to be supported by state-of-the-art technology," Klimavicz says.
Employees can share and edit documents together in real time, much faster than emailing documents to each other, he says. "You create a document, and everyone will get together; and in 30 minutes, we edit it and we're done with it. Before, it would take days and weeks, emailing a document around."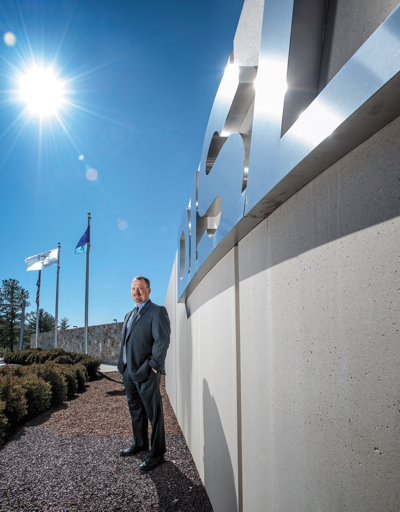 Photo: Brad Howell
DISA's enterprise email system runs on a private cloud, but the agency's John Hale sees a move to the public cloud for email in the future."
In addition, by moving to the cloud, IT administrators no longer have to maintain and troubleshoot email systems and worry about keeping the software up to date, Klimavicz says. When the agency's cloud provider improves features, those improvements are automatically provisioned, he adds.
In addition, NOAA cut its email costs in half by moving to the public cloud. "Taxpayers save money with a highly reliable, scalable and secure commodity technology as opposed to having to do it ourselves," he says.
Similarly, the Interior Department last year migrated its 72,000 employees from 14 separate email systems to a cloud-based solution. Besides an improved email system, which increased the amount of email employees could store from 500 megabytes to 25 gigabytes, the system's communication software is modernizing how Interior employees work, says CIO Bernard Mazer.
"It offers another way — a better venue — to connect and communicate," he says. "It allows people to engage more. We are spread across thousands of locations, and with travel restrictions, it helps form more of a sense of community within the department."
The software also spurs collaboration across agencies, Mazer says. Interior is actively pursuing the use of web conferences with employees at other agencies, he adds.
Beyond the Basics
Unified communications can have many permutations — through one vendor or the integration of technologies from multiple vendors, says Current Analysis' Landoline. Agencies can take an all-cloud approach or use a mix of cloud and in-house technology.
"You can get the fundamental building blocks through the cloud or do a hybrid approach with an on-premises PBX with an instant messaging/presence system through the cloud," he explains.
The Federal Aviation Administration aims to take this approach. The FAA plans to migrate its 60,000 email users to Microsoft Office 365 this summer. Through Microsoft's Lync software, FAA employees will be able to instant message, make audio and video calls, and hold web meetings, where they can share desktops, and PowerPoint presentations, use a virtual whiteboard and transfer files.
39%
of agencies have moved or are in the process of moving conferencing and collaboration software to the cloud, making it the most popular cloud-based application in the federal government. Messaging software ranks second, at 37%.
SOURCE: CDW 2013 State of the Cloud Report
Within two years, the FAA plans to integrate Microsoft's cloud software with the agency's Cisco Voice over IP (VoIP) system, says Darrin Donlon, acting manager of the optimization branch in the FAA's Office of IT Optimization.
That way, users can take advantage of unified messaging, which integrates messages in a single location, such as the ability to check voicemail in an email inbox, he says.
Meanwhile, DISA is developing a comprehensive strategy to implement unified communications, which it calls "unified capabilities," for the Defense Department's business, intelligence and warfighting communities.
While DISA is finalizing its plans, the strategy will include email, calendaring, presence, instant messaging, audio, video and web conferencing via computers and mobile devices, as well as a VoIP phone system and high-end video conferencing systems, says Alfred Rivera, DISA's principal director for enterprise services.
DISA currently offers enterprise email, collaboration and document-sharing software through its own private cloud — technology tools that are foundational components to the agency's future unified capabilities, Rivera says.
In 2011, the agency launched its own cloud-based email using Microsoft Exchange software, and today more than 1 million Defense Department users are onboard, including the Army, the European Command, the Africa Command and the Navy Recruiting Command, says John Hale, DISA's chief of enterprise applications.
DISA also built Defense Connect Online (DCO), a suite of web collaboration applications, on its private cloud in 2009. Based on Adobe Connect software, the technology allows users to hold video conferences, chat in meeting rooms, share presentations and do whiteboarding on both classified and unclassified networks, says Alan Lewis, program executive officer for enterprise services.
DCO, which is also used for distance learning, has grown in popularity during the past six months because budget constraints have eliminated a lot of travel, forcing employees to work and communicate remotely, Lewis says. Today, 900,000 Defense employees use the cloud service. "It is a key tool for how we do business in a geographically distributed manner," he says.
DISA also uses Microsoft SharePoint to offer an enterprise portal service in its private cloud, providing employees another avenue to collaborate.
Despite these investments, Hale says DISA is not locked into its existing private- cloud offerings and will consider other technology as the agency embarks on its unified capabilities strategy. In fact, he sees a move to the public cloud for email in the future. The agency's goal is to provide users with the best technology tools available.
"This particular sector of the market continues to evolve and change so rapidly," Hale says. "We are in the mode of adopting technologies as quickly as possible to ensure our warfighters have an advantage over our adversaries, and if we can get the technology in place in a safe and secure manner to provide that advantage, that's what we aim to do."
DISA's previous work of consolidating numerous email systems to the private cloud will make the move to the public cloud easier, he says.
DISA's IT leadership expects a mix of cloud and on-premises technologies in its final unified capabilities offering. "We will have everything integrated, but it will have a cloud component," Rivera says.
Overall, federal agencies that have implemented cloud-based unified communications are happy with the results.
The EPA migrated 20,000 email inboxes and 5,000 BlackBerry devices over a three-day weekend in late February and plans to deploy SharePoint Online this spring, allowing teams of employees to set up intranet sites and collaborate, says CIO Malcolm Jackson.
In the meantime, collaboration tools available through Microsoft Lync are helping the EPA build stronger teams and drive interaction, which results in better outcomes, he adds.
"At first, there was the fear of change and the unknown," Jackson says. "But upon using them, they are excited and are enjoying the discovery of new ways to collaborate.
Khue Bui
More On