How the Defense Department Tackles Enterprise Mobility
DoD's massive mobile deployment seeks to boost productivity and cut costs.
Adopting a mobile computing strategy for an enterprise as big as the Defense Department takes time and planning. After years of vetting and piloting solutions and establishing processes, it's full steam ahead for the world's largest workforce.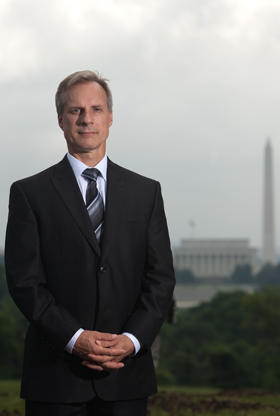 "We want to support mobile users to enhance their work experience and increase productivity," says Peter Ziomek, mobile director in the Office of the Department of the Navy CIO.
Photo Credit: Khue Bui
The Navy is set to launch a new generation of smartphones and tablets. But before the devices hit the high seas, leadership has mapped out a detailed implementation strategy. Like the DOD's overall mobility plan, the Navy's focuses heavily on products (which to acquire), security (how best to implement it) and applications (which are most effective).
"We want to support mobile users to enhance their work experience and increase productivity," says Peter Ziomek, mobile director in the Office of the Department of the Navy CIO.
As part of its planning, the Navy is exploring ways to enhance mobility. For example, the service is studying the possibility of creating 4G LTE networks aboard ships, which would allow sailors on deck to communicate and collaborate with airborne helicopter crews. The Navy is also considering borrowing a page from the Air Force, where iPad devices with digital maps and manuals have replaced paper tomes.
But instead of doing everything from scratch, the Navy hopes to use the Defense Information Systems Agency's (DISA's) centralized app store and is looking into using DISA's mobile device management (MDM) software to centrally configure, monitor and secure devices.
In 2013, the Department of Defense developed an enterprisewide strategy to use commercial mobile devices for unclassified and classified networks. It tasked DISA with implementing it. In its role, DISA is in charge of approving devices, managing applications, ensuring quality assurance and implementing authentication and security measures. The goal is to take advantage of tablets and smartphones everywhere, from military bases to the tactical edge, in what is one of the largest, most complex mobile rollouts anywhere.
"We want and need to have cost savings. One of the main reasons we began this effort was to save money for the department," says Maj. Gen. Robert Wheeler, deputy CIO for Command, Control, Communications, Computers and Information Infrastructure. "We also need to maintain security — security that grows with the threat. And we must jump the productivity curve. For the department, this has the potential to have the most long-term impact."
Meeting Mobile User Demands
Gartner Research Director Chris Silva says DOD's mobility push reflects a larger trend. IT organizations are under pressure to support mobile devices that users know and want to use, such as iPad, iPhone and Android devices.
"Enterprise users want the same choices they have as consumers. So for the Department of Defense, it's about capitalizing on those tools people are familiar with, so they get immediate efficiency benefits," Silva says.
That can be easier said than done at the Defense Department, tasked with ensuring the nation's security. In the past, DOD components have embarked on more than 50 mobile pilots, 20 of which the department considers substantial, according to Wheeler. DOD has taken the best of those pilots, fine-tuned them and extracted the appropriate lessons so that the department as a whole can learn from them, Wheeler says.
Over the past year, DISA has made tremendous strides in implementing the strategy, says John Hickey, program manager for DOD mobility. DISA has approved a batch of mobile devices that meet its security requirements, including iPads, iPhones, Samsung Galaxy 10.1 tablets and the Samsung Galaxy S4 smartphone with KNOX functionality. (KNOX is a security feature that allows agency and personal data and applications to operate in separate containers.)
Hickey says DISA is now also evaluating Windows 8 tablets.
The agency has also deployed MDM and a mobile application store for unclassified users. The store supports both Apple and Android devices. In the future, DISA will look to also support Windows and BlackBerry mobile applications, Hickey says.
33
The number of apps available on DISA's Mobile Application Store as of June 2014. Another 153 apps, a combination of productivity and recreational apps, are currently being vetted and added.
SOURCE: Defense Information Systems Agency
Today, 2,000 unclassified mobile devices have transitioned from pilot to operational mode, and DISA is gearing up for more. One DISA Defense Enterprise Computing Center has the capacity to support 25,000 users. And as DOD agencies and services ramp up adoption, DISA can boost support for 50,000 more users in two weeks or less.
"We can build out capacity on demand in our virtual hosting environments," Hickey says.
DOD currently supports 80,000 legacy BlackBerry phones, and as those contracts end, agencies and services will decide if and when to migrate to newer devices. "Now the hard work starts on transitioning users off the legacy BlackBerry devices and other devices, such as laptops," Hickey says.
Enforcing Tighter Security
DISA will deploy MDM for classified users by September and will provide an app store with limited apps. The agency will focus on using virtual desktop environments and private cloud resources to provide users access to applications and data, Hickey says.
"We don't want to necessarily store classified information on devices. We want to store it in the private cloud," he says.
To further bolster security, DISA is installing secure gateways in its networks and making software testing, assurance and version management control tools available to ensure apps are secure and trustworthy, Hickey says.
Because mobile technology continues to evolve and improve, DOD will allow its components to test new technologies and capabilities, such as cloud solutions or more efficient identity management techniques, to see if they are viable.
"Much like the commercial world, this technology keeps evolving, and we will evolve with it," Hickey says.
The Navy's Mobile Transition
The Navy currently supports legacy BlackBerry devices. But its goal is to have a more diverse mobile platform in place. When its strategy is fully realized, the Navy will not only support the latest BlackBerry devices, but also some mix of Apple iOS and Android.
Taking advantage of DISA's app store will help save the Navy time and money in the rollout, Ziomek says.
"If a specific productivity tool has already been approved, we won't have to go through the approval process again, and we won't have to manage updated versions of the software," he explains.
The Navy, which is running a pilot with Apple products and MDM software, is debating whether to install its own MDM application or use DISA's. To use DISA's, the Navy would have to install private networks between the Navy's network and DISA's to securely exchange email and data.
"Whichever MDM the Navy chooses to use, the desire is to capitalize on as much of the DISA infrastructure as possible when it's more cost-effective," Ziomek says.
Using Tablets in Combat
Also on DISA's to-do list this year: pushing mobility to the tactical edge. For example, iPad devices have already saved the military millions of dollars a year in fuel costs by eliminating cumbersome paper maps and lightening the load of aircraft.
That said, such tablets historically have not been allowed on Defense Department networks, forcing pilots to manually load maps and other data they need to do their jobs. DISA aims to connect iPads to the cloud for secure, automatic data transfers, according to Wheeler.
The Marine Corps plans to start deploying tablets in tactical situations this summer, allowing pilots to share real-time situational awareness and information with other pilots and with the ground troops they transport, drop off and pick up.
When troops are en route to a mission in an MV-22 Osprey aircraft, for example, they can receive pictures, video and other real-time information on their tablets, allowing them to better prepare, explains Maj. Sean Hoewing, digital interoperability requirements officer at the Headquarters Marine Corps Aviation Department.
"Images are often better than talking," he says.
The Marines have tested Samsung Galaxy Note 8.0 and 3.0 devices for the past 18 months.
"They love it once you demonstrate how much more effective and efficient they can be at doing their jobs," Hoewing says.
Mika Makelainen/thinkstock
More On