Federal IT Reset Comes into Focus
The Obama administration increases the federal IT budget again after reining in costs for four straight years.
The federal technology budget is growing again after a four-year hiatus that saw the Obama administration drastically alter the way the government views its use of technology.
As FedTech reported on Monday, the White House proposed an $86.4 billion federal IT budget for the 2016 fiscal year, an increase of about 2.7 percent over the previous year.
This comes after a 2.9 percent increase last year. That may not seem like much, especially for anyone that followed government technology during the final years of the Bush administration, but these investments are significant.
"We've had a multiyear strategy that first focused on stabilizing the IT spend by finding IT efficiencies," Lisa Schlosser, the acting federal CIO, said during a call with reporters on Monday. "Now we are making investments in strategic priorities, like the digital services teams and cybersecurity, that are driving the increases we see now in the IT spend."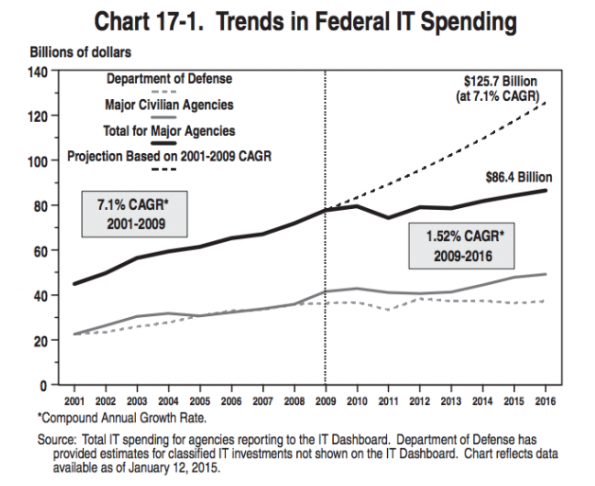 The last six years have essentially acted as a reset on how the federal government views information technology. During the Bush administration, the federal IT budget grew 7.1 percent each year, on average, from slightly more than $40 billion in 2001 to nearly $80 billion in 2009, the administration's last fiscal year in office.
Feeling this was unsustainable and was fueled with emerging technologies, such as cloud computing, that could reduce technology costs, the Obama administration's technology leadership — first under Vivek Kundra and later under Steven VanRoekel — instituted measures to rein in what the government spent for its technology.
VanRoekel, in particular, pushed for agencies to "cut and invest," telling them that future funds for innovation would not be coming. Instead, it would be up to the agencies to find those savings by eliminating redundant projects.
"We need to think about government as a platform for delivering better digital services to citizens," VanRoekel said in April 2012. "We need to drive this maniacally inside agencies to streamline this stuff, to create that investment capital for us to continue to innovate."
VanRoekel continued those sentiments just a year later when announcing a budget that jumped a modest $2 billion.
The key to IT investment is to shy away from investing "like we've invested in the past," VanRoekel said. "On a flat budget, that's not sustainable.We've got an opportunity to change the game, and if we're investing more, we have to invest in new ways."
So instead of just spending more, the Obama administration's goal was to cut out unnecessary expenditures in technology. Behind programs like PortfolioStat, which, according to Schlosser, has saved agencies $2.7 billion to date, the Office of Management and Budget (OMB) pushed agencies to use less expensive — and often better — technologies that would still provide the same level of service.
Those savings on commodity technologies could then be invested in things a little more mission-critical than simply keeping the technology lights on, so to speak.
While Schlosser said the government is still looking to cut (cloud computing accounts for 8.5 percent of total IT spend, which still has room to grow), the administration is now getting to the invest part of the equation.
Beth Cobert, the deputy director for management at OMB, said that the money the government invests is not for the sake of spending but for finding technologies with a high return on investment that can help government be more effective and increase customer service.
Investments include $105 million for digital services teams that are actively recruiting top-level technology talent into the government, and $35.2 million for an IT Oversight and Reform fund to pay for technology-oversight efforts. There will also be a substantial investment in improving the Federal IT Dashboard, Schlosser said, and investments in improving IT acquisition training — something that has been called on for years among those working inside government.
Finally, and perhaps most substantially, the budget calls for a $14 billion investment in cybersecurity technology, a number that has steadily grown over the past five years.
"This budget includes investment in high-priority strategic areas," Cobert said. "My experience in the private sector is that you need to reshape yourselves to meet the expectations of customers, and ours are the American people. … We want to look at where we can drive costs down in order to spend more on services that can improve capability."
More On