Review: HP EliteBook Folio 9480m Ultrabook Performs Like a Desktop
HP's Ultrabook packs numerous useful features into a slim, light design.
Ultrabooks, streamlined devices that typically weigh 3.5 pounds or less, are good for travelers because they slip into almost any carrying case or bag without adding much weight. But they come with limitations too, such as small screens, reduced performance and no expansion ports. The HP EliteBook Folio 9480m Ultrabook changes all that.
Sitting right at the 3.5-pound line for Ultrabooks, the Folio packs plenty of features into its thin, light form factor. Longtime Ultrabook users will be surprised to find a full 14-inch LED screen protected by a glare-resistant coating for use in different lighting environments. With a native resolution of 1366x768 pixels, the Folio can display Full HD graphics without error or delay, even when pushed through the punishing DisplayMate visual benchmark.
The Folio's fully backlit keyboard makes it easy to work in dim light — even in total darkness if needed. Backlit keys are almost unheard of in Ultrabooks because of the battery drain they can cause, but the Folio does not seem to suffer from this problem. With a movie on continuous play and the backlit keys illuminated, the Folio I reviewed was able to maintain power for 11 hours and three minutes before the warning alarm sounded. More reasonable use would extend that time even further.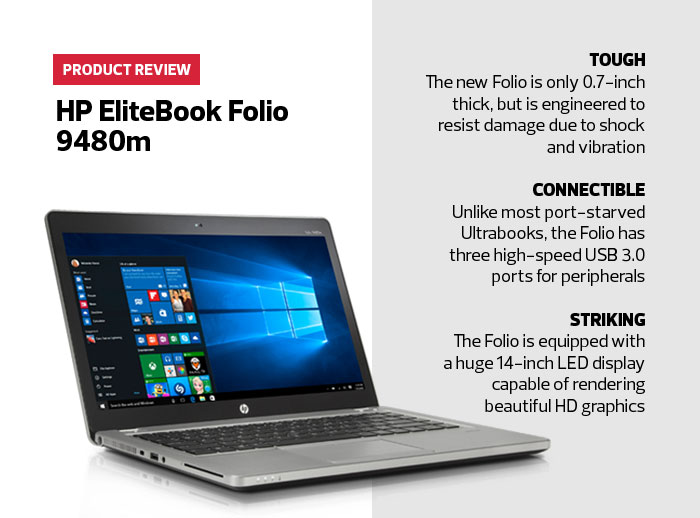 SPECIFICATIONS:
Processor: 2GHz Intel Core i5 4310U 
Memory: 4GB DDR3 SDRAM 
Storage: 256GB SATA
Dimensions: 9.1x13.3x0.7 inches
Weight: 3.56 pounds
Powerful Performance and Strong Security 
The Intel Core chipset has delivered powerful processing capabilities to notebooks, and the Folio takes advantage of this with a robust Core i5 processor running at 2 gigahertz. Helped by 4 gigabytes of DDR3 memory, the Folio performs like a desktop, opening large Excel files and even Photoshop documents typically in less than a second.
HP has included a suite of security programs in addition to the standard security tools that come with Microsoft Windows. This includes HP Drive Encryption, SureStart and File Sanitizer. Federal users who need two-factor authentication should consider the optional fingerprint reader.
The HP EliteBook Folio 9480m Ultrabook provides all of the advantages of a highly portable computer while mitigating the usual disadvantages.
HP
More On