Review: Epson PowerLite 2250U LCD Projector Makes Meetings Shine
Epson's projector takes advantage of 3LCD technology to make images both bright and clear.
Excessive overhead lighting that washes out images during presentations may be a problem of the past.
Epson's PowerLite 2250U LCD projector is designed as a conference room unit, able to overcome less-than-ideal lighting and still project a clear, easy-to-view image. But instead of boosting brightness, which often comes at the expense of image quality, the PowerLite 2250U uses unique 3LCD technology to offer the best of both worlds.
This approach splits light into red, green and blue, with each beam passing through a filter to further purify it. The projector then processes the individual colors through an LCD panel and recombines them with a dichroic prism.
The result is brilliant, exceedingly accurate colors with more than a billion possible combinations and shades. Using visual benchmarks, the displayed images I tested all fell within 1 percent of their true color.
Displaying True Colors 
The projector's color display is not hindered by the raw light power of the unit, which is rated at 5,000 lumens for both white and colored images. In my tests, I recorded 4,670 lumens 10 feet from the lens with a pure white screen and measured 4,490 average lumens for multicolored images. To get the full, raw light power in lumens, users should disable Eco mode (if necessary), which cuts the lamp life from 10,000 to 5,000 hours. Regardless, color accuracy was not affected by brightness levels.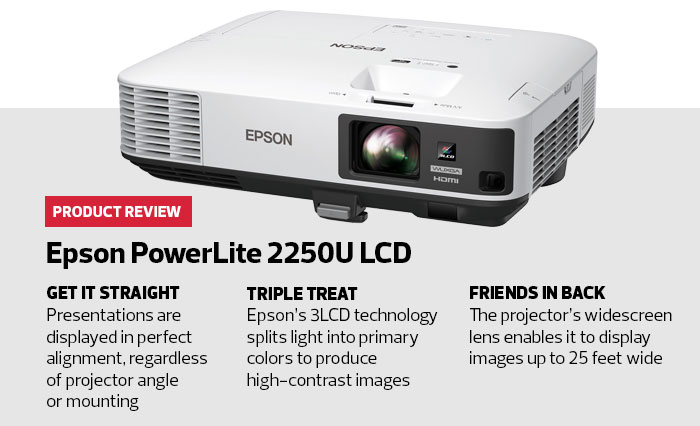 Color quality with the 2250U is accurate enough to support specialized applications such as medical imaging. When placed into DICOM (Digital Imaging and Communication in Medicine) simulation mode, the projector enhances grayscale levels to display X-rays exactly as they appear on film. I also loaded grayscale satellite imagery and could easily study precise details about the buildings, streets and vehicles depicted on a wall 25 feet away. The 2250U does this without a hint of a moiré pattern sneaking in, which speaks to the quality of its design.
In the federal government, where presentation often is a top priority, the Epson PowerLite 2250U LCD projector is ready to serve, regardless of the mission or the boardroom conditions.
Administrators Gain Control 
The Epson PowerLite 2250U LCD projector is a precise instrument. The $1,599 price is reasonable given its advanced features, image quality and brightness, but also means most agencies will want to protect their investment.
To help with that mission, every 2250U comes with EasyMP remote management and control software that allows administrators to manage their projectors from a central location. I tested that functionality with my 2250U review unit and another Epson projector I had in my test lab.
EasyMP gives admins a look at what each projector on their network is doing, not unlike a security information and event management panel for cybersecurity. I could see both projectors, but the software can support an unlimited number.
From the primary dashboard, we could see if someone accidentally left one of the units powered up, a surprisingly common occurrence in most conference rooms (and an oversight that burns up lamp life). I could remotely trigger a shutdown without leaving my desk, and I could even schedule shutdowns so that projectors would automatically power off.
Each projector also reported any maintenance issues, such as a lamp needing replacement or a recommended time to replace the lamp.
Finally, EasyMP also enables users to display critical messages through our projector network. This feature includes powering up units and overriding presentations to ensure the messages were delivered. This could be useful in an emergency, or to call a last-minute meeting.
It could even turn the projector network into a type of news distribution system, though that's obviously not the device's primary function.
The inclusion of EasyMP makes the management and maintenance of many Epson projectors significantly easier. The software becomes more helpful as more projectors are added, with unlimited expandability.
Epson PowerLite 2250U LCD Projector
Projector Type: LCD with 3LCD chip technology
Maximum Lumens: 5,000
Native Resolution: 1920x1200
Contrast Ratio: 15,000:1
Video Quality: 1080p Full HD
Dimensions: 14.8x11.5x4.9 inches
Weight: 10.2 pounds 
Epson
More On