Review: HP's PageWide Printer Delivers Quality and Speed
The 556dn produces pages quickly, and also gives users security and a photo-quality final product.
Inkjet technology has surpassed laser printing as the gold standard at many organizations, especially those that print in color. Inkjets are generally faster than laser printers, can produce more vibrant colors, and often do so at a lower cost per page. HP designed its PageWide Enterprise Color 556dn to provide all the benefits of the technology while minimizing the detriments.
The key to the success of the 556dn is an extra-wide print head that matches the width of a standard page. This means the printer doesn't need to move to spray ink, which slows most ink printers and can lead to smearing and horizontal lines appearing in documents over time.
Instead, paper on the 556dn moves under the print head, which produces incredibly vibrant images by dropping ink in the correct places and in tight densities. It's difficult to tell the final printed product from actual photographs.
With fewer moving parts, the 556dn is also less susceptible to breakdowns and jams. The heavily angled print return tray also serves to keep pages from launching onto office floors. I ran 200 pages through the 556dn in a single job, and they came through in less than five minutes, stacked neatly in order.
A Printer with Solid Security Features 
Agencies will enjoy the robust security that comes standard with the 556dn. My test unit had HP Sure Start installed to check for the presence of malware on bootup, provide whitelisting to streamline validated users and offer automatic intrusion detection in case an attacker tried to use the printer as a jumping off point into the network.
The 556dn protects all its communications with 256-bit encryption, so it's extremely hardened in terms of cybersecurity.
By using the software that's included, administrators can lock down specific functions, but local users still have plenty of control — if allowed — through a 4.3-inch color touch screen that makes navigating advanced features easy. With a blend of performance, security, speed and output quality, the HP PageWide Enterprise Color 556dn printer is a good fit for any small to medium-sized agency workgroup in need of reliable and speedy color printing.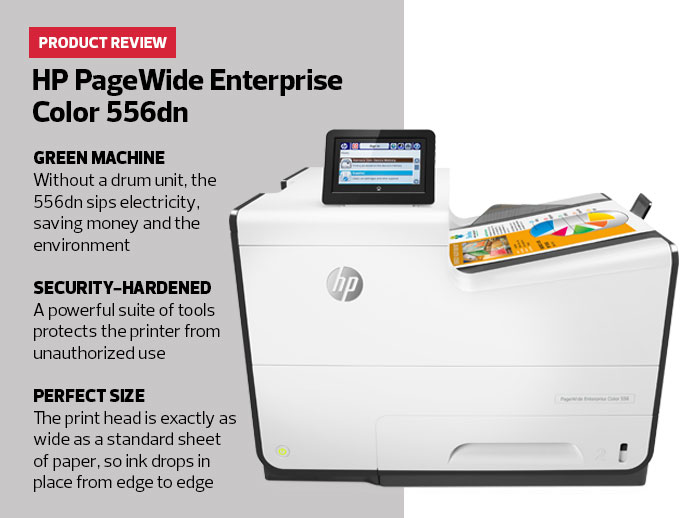 HP's PageWide Allows Users to Speed Without Moving
I've tested many printers in the lab, but never one where the print head didn't move at all. Designed to let the paper do the work, the 556dn produced a fine-looking final product. For this online extra, I revved up its print engine, sending two punishing documents through the unit and recording their print times. One document was black and white and all text, while the other was color and made up of a harsh combination of fonts, graphics, photos and text.
My test HP PageWide Enterprise Color 556dn printer connected to the lab network using its Gigabit Ethernet 10/100/1000T network port, which I thought would be faster than using the USB 2.0 port. There is no wireless printing option.
Sending through a test page of black text, the 556dn jumped off the starting line, finishing the job in 7.5 seconds. Given that the 556dn ships with 1280MB of DDR3 memory and a 1.2GHz processor, this was not too surprising. A color page laden with complex graphics took a bit longer, but wrapped up in 9 seconds.
With the first heat complete, I sent the black-and-white document to the printer. Once the 556dn got cranking, there were no pauses and no spooling. The 556dn completed the task with an average speed of 48.5 pages per minute, one of the fastest printers I've tested, especially in this class.
The printer was no slouch with a large color file either. Although it paused at one point for a few seconds, the pace for the graphic-laden color print job was almost as good as the black-and-white text, and it arrived with an average speed of exactly 48 pages per minute.
As a final test, I ran another 500 pages through the printer and checked the output quality. The first page looked as good as the last, with no streaking, smearing, artifact lines or other blemishes.
HP has a real winner with the HP PageWide Enterprise Color 556dn printer. It offers blazing speed in a reliable package that is perfect for agencies that need high-quality color printing.
HP PageWide Enterprise Color 556dn
Rated Maximum Print Speed: 50 pages per minute
Maximum Recommended Monthly Volume: 500 pages
Processor: 1.2GHz
Capacity: 500-sheet input and 50-sheet multipurpose trays
Dimensions: 20.8x18.2x17.9 inches
Weight: 49 pounds
HP
More On