Review: The Toshiba Portégé X20W Plays Many Roles for Feds
With enhancements to security, performance and functionality, this light notebook enables agencies to do more with less.
According to federal procurement data, the Toshiba Portégé line of laptops has maintained a presence within federal agencies, including the Army, State Department and NASA, for many years. Sturdy, portable and secure, the Portégé line has offered much to users. The new Toshiba Portégé X20W takes that rich history and adds more functionality and features, enabling agencies to do more with fewer resources.
A key addition to the X20W is a sturdy, 360-degree dual-action hinge. The screen doubles over and locks on the far side of the keyboard, creating a tablet. The Portégé is preconfigured to operate in tabletop and presentation mode, or to flip its display so PowerPoint presentations look correct to an audience.
The Portégé's display, a 12.5-inch multitouch LED configured in 16:9 wide-screen, looks great with its 2 million pixels and Full HD 1920x1080 native resolution. Testing revealed highly accurate colors, within 2 percent of true, unaffected by the Corning Gorilla Glass 4 composite that comprises and protects the clear part of the display.
SIGN UP: Get more news from the FedTech newsletter in your inbox every two weeks!
Portégé's Security Tools Prevent Intrusions
Toshiba has packed a lot of security into the tiny notebook. Out of the box, the X20W offers both facial recognition technology and a fingerprint reader — dual-factor authentication that can prevent unauthorized access. When coupled with traditional password protection, it makes for triple authentication that is easy and fast to set up and maintain. A Trusted Platform Module chip ensures internal components haven't been tampered with each time the system boots.
With an Intel Core i5 processor (some models offer i7 chips) backed by 8 gigabytes of speedy Low Power Double Data Rate Synchronous Dynamic RAM, the Portégé can handle almost any app. It gains additional performance thanks to a solid-state storage drive, which minimizes disk read-and-write delays. Even when using government-approved encryption to protect stored data, there is no noticeable slowdown. The ports on the X20W are also fast, with a brand-new Type-C USB 3.0 ready to handle anything from driving a second screen to charging devices or Thunderbolt 3 peripheral connections.
Instead of each employee lugging around a fleet of devices for different functions, government agencies can do more with one Toshiba Portégé X20W serving multiple roles as needed.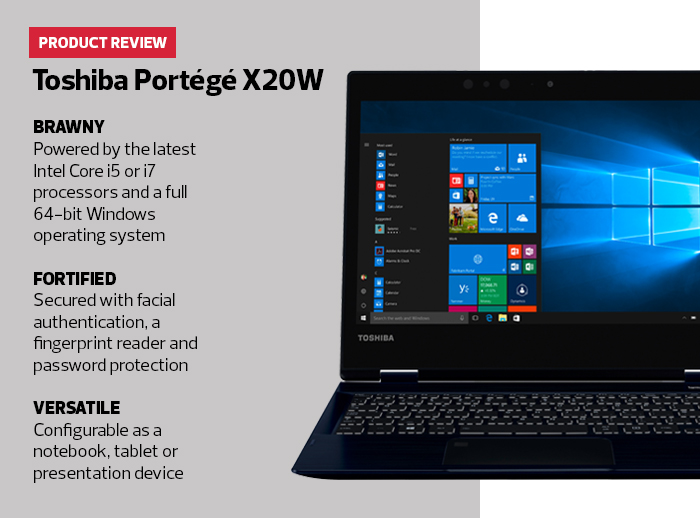 Thunderbolt Provides Single-Cable Docking Simplicity
The Toshiba Portégé X20W's dual hinge allows it to twist into one of five configurations to serve as a laptop, tablet or various presentation devices. Having mastered consolidation in a portable format, it would be a step backwards if the X20W needed to attach multiple cables and peripherals to take advantage of network resources.
Thankfully, the inclusion of a brand-new Type-C USB 3.0 port makes this unnecessary, once a Toshiba Thunderbolt 3 Dock is added.
The Thunderbolt 3 Dock is designed to work with the new X20W but could serve most modern Portégé models.
Testing involved first connecting the Thunderbolt to a desktop computer. Once set up, the X20W attaches to the dock with a single cable using the Type-C USB 3.0 port. Then, desktop users have full access to the X20W as if it were a peripheral of the desktop system, including full access to the notebook's desktop environment. When connected like this, the X20W also gains full access to all desktop resources and network peripherals, such as printers, keyboards, projectors, gigabit ethernet, mice and any others.
The new cable is so fast users won't notice any slowdown when working with the notebook connected through the Thunderbolt 3 Dock. As a nice bonus, the cable also provides power, so the Portégé can charge while it's in use or at rest.
In a sense, adding the Thunderbolt 3 Dock gives the Toshiba Portégé X20W yet another configuration and role: that of a powerful host and content server hardwired into the internal network. Yet it can disconnect and become portable at a moment's notice, whenever the need arises.
Toshiba Portégé X20W
Processor: 2.5GHz Intel Core i5 7200U
Memory: 8GB LPDDR3
Graphics: Integrated Intel HD Graphics 620
Hard Drive: 256GB SSD
Dimensions: 8.6x11.8x0.6 inches
Weight: 2.43 pounds
Toshiba