What Agencies Need to Know About the Cybersecurity Landscape [#Infographic]
Threats are evolving and proactively assessing and mitigating risk is more important than ever.
With the cybersecurity executive order signed in May 2017 by President Trump, agency leaders must work to identify security risks and guard against them.
The Department of Homeland Security and the General Services Administration in the summer of 2017 released a task order called "DEFEND" (for (Dynamic and Evolving Federal Enterprise Network Defense) to help agencies speed the development of cybersecurity technology. As security becomes more of a priority, agencies need to determine where their funding can be best used. DEFEND is part of DHS' next iteration of its Continuous Diagnostics and Mitigation program.
DEFEND replaces blanket purchase agreements that expire this August. The DHS and the GSA are taking bids from systems integrators to compete for task orders. The DEFEND task orders will allow the DHS and the GSA to issue requests for service for discrete kinds of cybersecurity work, including the cloud, access management, mobile and more.
Check out the infographic below to get a closer look at how cybersecurity is affecting other agencies and organizations, from the top threats to the impacts of a breach.
And to gain additional insights on the latest threats and the results from CDW's survey with IDG Research, download the Cybersecurity Insight Report.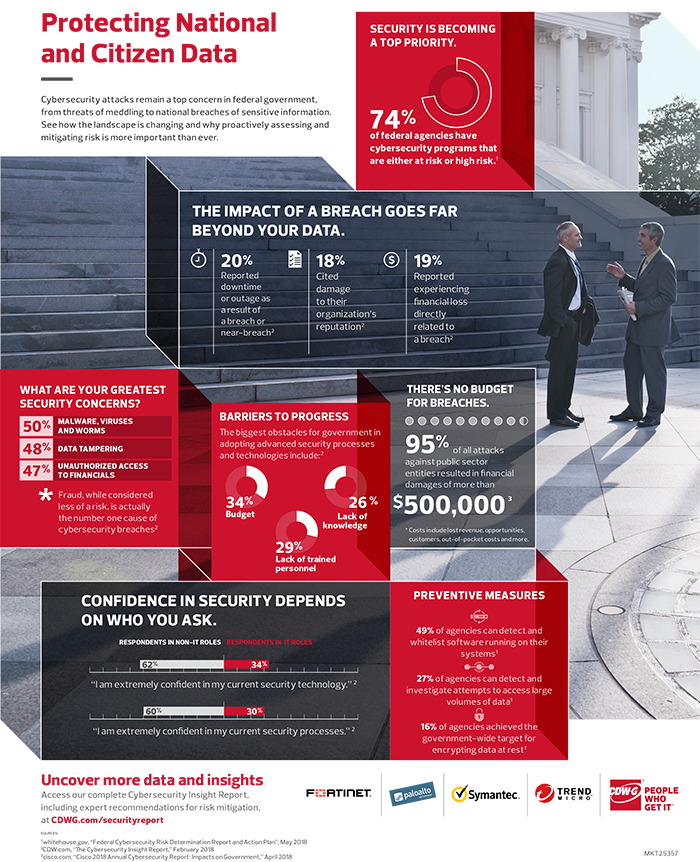 gorodenkoff/Getty Images