The Internet Has More Than 2 Billion Users and It's Just Getting Started
Web use grows rapidly, but at least 4 billion people still don't have access.
Worldwide, Internet use has exploded over the last decade. In 2002, just 10 percent of the world's population was online. Now, 10 years later, more than 32 percent of people have an Internet connection via smartphone, tablet or desktop computer, according to data provided by the World Bank to Google Public Data. The increase is due in large part to the adoption of the Internet in developing nations in Asia and Africa.
As massive as the Internet is, and as fast as it continues to grow, a huge majority of the world still lacks access:
Emerging markets, such as the Philippines, India, and Indonesia saw the strongest growth over the last year, but global Internet penetration currently stands at just 32 percent, indicating the Web has many more years of growth ahead of it.

Meeker's firm also examined the mobile space and found that there are now 1.1 billion mobile 3G subscribers worldwide, representing 37 percent growth year over year. However, like the Web, global penetration is quite low, reaching only 18 percent at the end of last year.
Read Mary Meeker unveils KPCB's Internet trends for 2012 on CNET.
The United States is no longer the world leader in the number of Internet users; China, with a much larger population, lays claim to that distinction. The United States does, however, boast a significantly higher proportion of Internet users by population: 78 percent to 38 percent. Here are a few other noteworthy statistics about worldwide Internet use from Google Public Data:
516,117,500: Number of Internet users in China
243,777,700: Number of Internet users in the United States
2007: The year that China passed the United States in total Internet users
2,263,500,000: Internet users in the world, as of 2011
Iceland has the highest percentage of Internet users: 97.8% (source)
Click to view a larger image.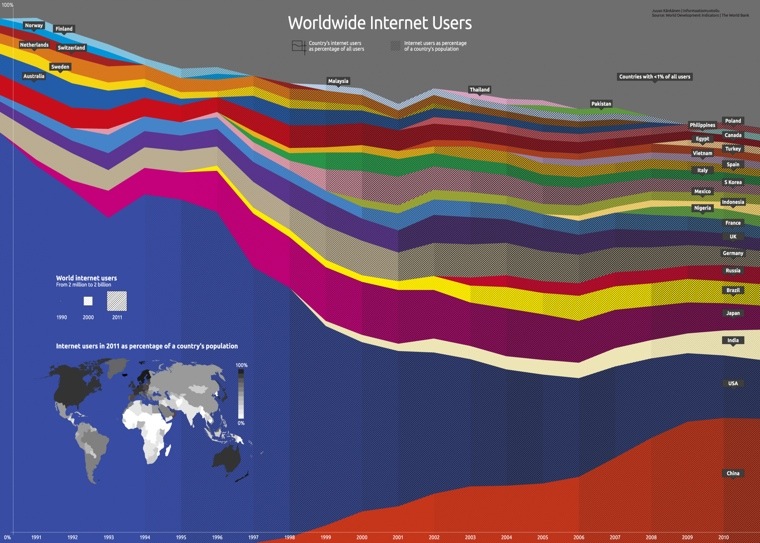 <p>Image courtesy of Ventrilock / <a href="http://www.freedigitalphotos.net" target="_blank">FreeDigitalPhotos.net</a></p>
More On