A Closer Look at Managed Print Services in the Government
Printing is often an opportunity for cost-savings.
The enterprise often approaches managed print services as a form of outsourcing. This is much like the managed services they may rely on to keep servers maintained — or, for that matter, the processes associated with migrating to a software as a service infrastructure in order to access a number of apps. And as with server maintenance or cloud computing, MPS can vary between providers. Therefore, IT shops should understand the range of options from the very beginning of their search. Each alternative offers a different level of support to manage printers and multifunction devices in a unified manner. Here are three broad classifications of MPS:
Basic managed print services: Typically, basic services are a first step and include automated supplies replenishment and print management for a single workgroup or small department. Such small-scale services can serve as a pilot program for a broader managed print implementation.

Infrastructure optimization: This scenario introduces device consolidation, automated supplies replenishment, support services and ongoing performance analysis to a larger crosssection of the enterprise.

Full-fleet management: This high-end variation covers the entire printing and imaging infrastructure and may also incorporate electronic document management as part of the consolidated solution.
There are a number of motivations for moving to managed print services, but the overriding factors are cost savings and the opportunity to offload scalable degrees of print management duties so that internal staff can focus on tasks that more directly serve the enterprise's goals.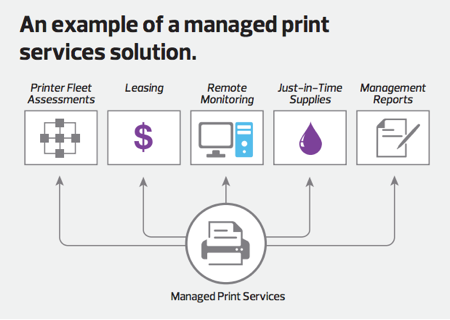 Detailed fleet reporting and predictable monthly expenses are also important, especially for those who live by the adage, "You can't manage what you can't measure." When printer costs are undocumented, organizations can't easily eliminate waste or spot redundancies that result in unnecessary costs.
Two pricing models are prevalent in the MPS marketplace today: 1. Pay-per-cartridge 2. Cost-per-page (or Pay-per-click). For managed print contracts based on cost-per-page or pay-per-click pricing models, upfront work is required to determine contract pricing — which is typically based on four key estimates made by the service provider. These include:
Volume: The average number of pages that will be printed in a year. This amount may comprise estimates for individual departments, as some business units, such as marketing or shipping, create many documents while others, such as IT, do not.

Page coverage: How much ink or toner will likely be used to print each department's documents, from dense, illustrated reports to less complicated forms.

Color versus monochrome: Color consumables cost significantly more than their monochrome counterparts; the difference in the organization's use of each is factored into the price quote.

Service levels: Printer break/fix services may be included in the per-page rate. Pricing depends on the level of service (i.e. same day or next business day) requested.
The best service providers then build on their initial assessment to come up with more than just a per-page or per-click estimate for the managed print contract. They also provide an optimization plan. For example, large numbers of stand-alone desktop printers can be costly if they sit idle much of the time while still drawing power.
Organizations can improve on those ratios even more by transitioning from stand-alone hardware to workgroup printers and multifunction devices that connect to the LAN. A reputable managed print provider can use the assessment information to adjust ratios, reduce the number of stand-alone fax machines and scanners, and determine the best number and placement of shared devices to avoid forcing users into queues.
The good news is that previously expensive, high-performance multifunction devices have come down steadily in price, with many workgroup-class models selling below $700. Prices are even more attractive when you consider that the duty cycles of these units are high enough to serve entire workgroups, resulting in an overall reduction of the hardware footprint and cost of consumables.
Download our white paper Take The Pain Out of Printing to learn more.
<p>Image courtesy of Stuart Miles / <a href="http://www.freedigitalphotos.net" target="_blank">FreeDigitalPhotos.net</a></p>