U.S. Forest Service and Air Force Turn to Rugged Devices for Efficient Fieldwork
As tough mobile devices get better, smaller and more versatile, agencies are finding more uses for them.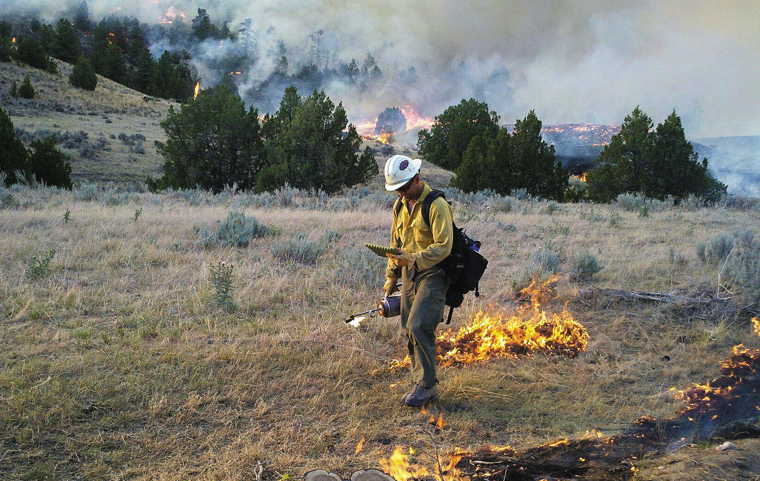 Photographs Courtesy of the U.S. Forest Service
Protecting and managing 191 million acres of land is truly rugged work. Each year, hundreds of U.S. Forest Service field engineers go deep into the nation's forests and grasslands to collect data on natural resources and wildlife to be used in a variety of surveys and projects.
For decades, the Forest Service has equipped its fieldworkers with rugged devices that meet military specifications — units that can withstand shock and extreme temperatures and are impervious to dust, upgrading the devices as technology has improved.
"Our handheld devices are subjected to a high degree of punishment. They've been dropped off bluffs, submerged in mountain streams, even carried 150 feet high into trees to record insect counts," says Art Clinton, National Mobile Computing Program Manager for the Forest Service, an agency of the Agriculture Department.
"Our handheld devices are subjected to a high degree of punishment. They've been dropped off bluffs, submerged in mountain streams, even carried 150 feet high into trees to record insect counts."
This means that any rugged device the Forest Service provides for its fieldworkers must not only meet current military standards, but also be dustproof, water-resistant and shock-resistant. The device must have enough battery life for a full day's mission, and screen resolution viewable in bright sunlight. The agency also requires such devices to have ergonomic input features.
Until 2007, Forest Service engineers primarily used rugged handheld computers with embedded GPS. As the agency's mission has expanded over the past several years to include fire and aviation, stream surveys in water, avalanche surveys and timber data collection in Alaska, the technology has become even more rugged. In 2007, for example, the agency equipped all of its law enforcement officers with in-vehicle rugged notebook computers. It also has some rugged ultra-mini PCs and some rugged PCs that can convert into tablets or slates.
The use of rugged and semi-rugged mobile devices from manufacturers such as Panasonic, Getac and General Dynamics has grown considerably over the past several years. Typically, government users are fieldworkers who are exposed to harsh conditions — such as extreme temperatures and environments with large amounts of dust and other particulates or vibrations — that can adversely affect the performance of mobile devices that are not designed to operate in these environments.
"We have witnessed significant advances in terms of overall industrial design and ergonomics of these devices," says David Krebs, vice president for enterprise mobility and connected devices at VDC Research. "While rugged devices will always be heavier than similar-sized, nonrugged devices, the difference is shrinking, especially for devices designed to be more portable, such as tablets. And the drop specification continues to improve as vendors become more aggressive with their product positioning and capabilities."
Ruggedization Takes Off
Aircraft maintenance personnel at Robins Air Force Base in Georgia have used rugged or semi-rugged notebooks or tablets for several years. The push started in 2009 when a report from the Air Force Inspector General's office called for the use of digitization in the field. When considering what type of mobile devices to provide to aircraft maintenance crews, Air Force officials quickly came to the conclusion that commercial-grade notebooks and tablets wouldn't meet their needs.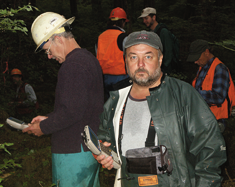 Handheld devices used by the Forest Service take a lot of punishment, says Art Clinton, the agency's National Mobile Computing Program Manager.
Photographs Courtesy of the U.S. Forest Service
"They initially bought regular laptops, but they were getting dropped, and they weren't of much use after that," says Gregg Kelley, Robins' program manager for e-tools. "We knew we needed shockproof devices that also had screens that could be read in direct sunlight and could handle the heat and humidity typical of weather in Georgia."
After testing hundreds of units with various configurations from a variety of vendors and gathering feedback from maintenance personnel, Kelley's team settled on a few configurations from manufacturers including Panasonic and Getac that met most of its users' needs. Today, aircraft maintenance personnel use rugged or semi-rugged tablets or notebooks. For example, personnel who work under High-Velocity Maintenance, the Air Force's aircraft maintenance program that includes a host of computing-intensive tasks, use notebooks. Those who deal with extracting information from wiring diagrams also use rugged notebooks.
For less computing-intensive work, tablets are an economical alternative. Aircraft maintenance workers who handle inventory or expedite orders typically use tablets.
Kelley says his group is striving to keep up with technological advances and is considering adopting rugged handhelds for some tasks. He is also looking forward to the introduction of a rugged Windows 8 tablet, as Windows devices are preauthorized for downloading information.
Doing the Math
With budget-strapped agencies being asked to justify purchases — rugged mobile devices generally cost more than equivalent consumer devices — carefully considering the total cost of ownership is critical.
"To truly calculate the TCO, you have to consider the initial price, reduced support and repair costs, reduced downtime, and the capability of the platform to perform the mission," Clinton says. "Our truly rugged devices have paid for themselves in short order, compared with nonrugged devices, with better customer satisfaction and efficiency and longer lifecycles."
<p>Photographs Courtesy of the U.S. Forest Service</p>