Q&A: DOJ's Joe Klimavicz Discusses Data Center Consolidation
Klimavicz shares the progress and goals of the CIO Council's Data Center Consolidation Task Force and his department.
In addition to serving as the Department of Justice's CIO, Joseph Klimavicz leads the Data Center Consolidation Task Force for the CIO Council, an interagency forum on IT management.
The task force brings together data center program managers, facilities managers and sustainability officers to share best practices for consolidating data centers in the federal government.
Klimavicz spoke with FedTech about the government's success in consolidating data centers, his goals for the task force and the DOJ's consolidation plans.
FEDTECH

How well are federal agencies doing with data center consolidation and is there still work to be done?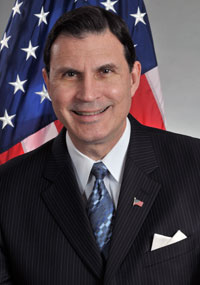 Credit: Department of Justice
Joseph Klimavicz is the CIO of the Department of Justice
KLIMAVICZ: I believe the way to best improve federal data centers is to focus more on optimization generally, not just consolidation specifically. Early on in the Federal Data Center Consolidation Initiative (FDCCI), so much time was spent trying to understand how many data centers the federal government had.
That was useful, and efforts to consolidate centers are still important, but so much efficiency can be gained by tapping into unused capacity in existing equipment.
For example, virtualization can unlock additional capacity. Compared with moving racks, signing long-term leases or even buying real estate, it's a much easier way to save energy and funds.
Data center equipment and technology are continuously evolving. With a three-year budgeting cycle based on funding appropriated by Congress, it can be challenging for the federal government to make changes as quickly as private industry.
In many cases, it has become cost efficient to outsource and use the cloud. The Defense Department is in the process of rewriting its cloud policy to speed up the procurement process by giving more purchasing authority to individual agencies. In other cases, the government has decided that it must continue to own its own new, state-of-the-art facilities.
For example, the Social Security Administration was able to use American Recovery and Reinvestment Act funds to build the new National Support Center in Urbana, Md.
[We've found that] all agencies have unique needs and are in various states of modernization. All agencies can improve, even in small ways, and should strive for a culture of continuous improvement with the goal of optimization.
FEDTECH

Since becoming chairman of the task force, what are some accomplishments you are proud of?

KLIMAVICZ: The group we have is implementation focused and close enough to the day-to-day issues to know what needs to change. In line with continuous improvement for all agencies, a group within the task force has provided their recommendations to OMB [Office of Management and Budget] on how to clearly define existing metrics. Others shared which metrics have been the most valuable to them in driving optimization.

All of the data center portfolio stat metrics [from different agencies] were shared with task force members so they could see which of their counterparts were doing well in certain areas. They were able to start conversations outside of the meetings, to learn from each other's successes. There has been information sharing between agencies about how to improve data quality, transition data centers and implement other changes.

Going green is also part of optimization, as cutting down on energy waste saves money. Task force members participated and spoke at the GreenGov event at the White House this past summer, where several agencies signed up for the Energy Challenge. Signing up meant agreeing to establish an efficiency goal for their data centers and to report and improve upon their performance, through metrics, such as Power Utilization Effectiveness (PUE). The Energy Challenge is a program run out of the Department of Energy that I have been proud to support.
FEDTECH

What are your goals with the task force moving forward?

KLIMAVICZ: The task force members and I agreed to focus on the following areas: inventory and data quality, cost modeling and best practices. A select group of volunteers has already provided recommendations to OMB on how to better gather inventory data, clarify definitions and otherwise improve data quality. A pilot program with improvements is underway.

DOD has shared their cost modeling methods with agencies that are looking to improve their decision making, and DOD continues to field questions and offer advice. Regular presentations based on member requests for advice and lessons learned also continue.
FEDTECH

Where is DOJ with its data center consolidation effort?

KLIMAVICZ: DOJ has identified three core enterprise facilities (CEFs) where we will consolidate our 56 remaining data centers. We plan to achieve this goal by the end of [the 2019 fiscal year]. The department has already made significant progress towards this, closing 54 of our initial 110 data centers.

Near-term, our plan is to close 11 data centers in 2015. At the same time, we are continuing to build out our CEFs to accommodate the increased occupancy, and virtualize our applications and systems to reduce operating costs, shift investments to more efficient computing platforms, increase security, reduce energy use and real property footprint, and improve agility.
Tomasz Wyszołmirski/thinkstock