Secret Service White House Tech Liaison Ron Layton Aims to Be a Team Player
Ron Layton and the United States Secret Service provide White House senior staff with 24-hour security — and technology.
Movies portray Secret Service agents as intimidating, dressed in black suits with sunglasses and an earpiece. While there is truth to that stereotype, the Secret Service mission features one unexpected requirement: customer service.
Ron Layton serves as the White House Technology Liaison for the Secret Service. He provides technology for White House senior staff and, perhaps more important, must ensure that it's working at all times.
Layton spoke with FedTech Managing Editor David Stegon about providing service 24 hours a day, the changing role of mobility and the Secret Service's recruitment efforts.
SIGN UP: Get more news from the FedTech newsletter in your inbox every two weeks!
FEDTECH: What does your day-to-day look like, and what is the big-picture role of your job?
LAYTON:  More than anything else, my job is to provide an elite class of customer service and maintain a high standard of support.
If there is a technical problem on a Secret Service system at 1 p.m., then I will hear about it at 1:05. By 1:07, I will begin work on a solution. Sometimes the solution comes quickly; other times I need to garner additional resources. If something breaks or there is a disruption, work begins immediately to fix it.
FEDTECH: What types of technologies does the Secret Service provide the White House?
LAYTON: It's a full suite of technological services, both to our own personnel and to the White House senior staff. We work in a team-oriented environment. More than anything, I want the Secret Service to be a strong team player alongside other agencies. If the Secret Service needs to offer a certain technological capability, we can look to our partners to see if there is a model already in place — and vice versa.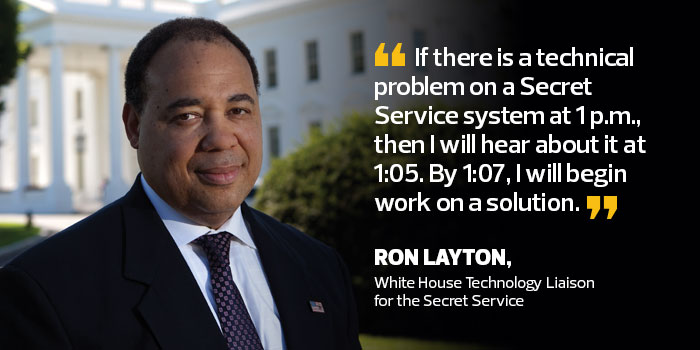 FEDTECH: What's the biggest challenge of your job, and what has been the biggest success?
LAYTON: Agencies once supported the White House based on that individual agency's capability, but that is the old model. The new model focuses more on a community orientation.
If something happens with a mission partner, whether it's the White House Communications Agency or the Executive Office of the President, it's all one team. It's a flattening of the organization to provide the best service.
All of the partners come from a hierarchical, vertically integrated organization. To flatten that for the betterment of mission support is challenging, but one we must step up to. It's a change in how we do business, but so far, it's worked quite well.
FEDTECH: Has mobile technology changed how an agent works?
LAYTON: When I started on this job, I was given a .38 Special revolver and a Polaroid camera. I also got a plastic briefcase with a green stencil to draw pictures and figures for when we did advance scouting. That's a major difference from today.
Agents, officers and our administrative personnel now get smart computing devices. Years ago, if we had a protective intelligence subject, we would take pictures of them to areas they visited to show people as we sought information. Now, we can simply upload those images to a smart device. We can do a wide distribution, or even a small one, depending on the investigation.
We're also looking at augmented and virtual reality. Those technologies can bring an enhanced capability to an individual, improving our folks who need to go out and perform a job.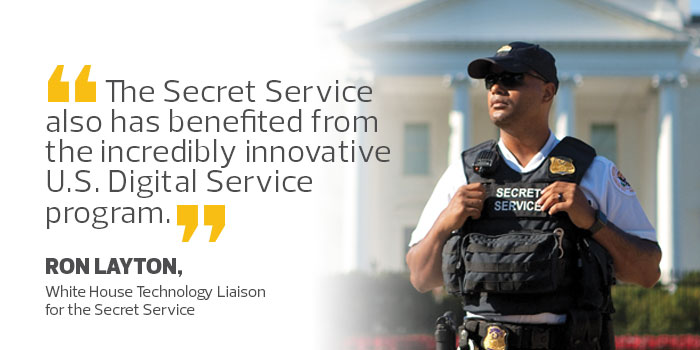 FEDTECH: Most of what people know about the Secret Service comes from movies. What can you tell us about the agency that people might not expect?
LAYTON: There is sheer diversity of assignments. On Monday, an agent can make an arrest in a major case and on Tuesday protect a world leader, all within a 24-hour period. Does that happen all the time? No, but it happens enough to be reflective of the incredible diversity of our assignments.
We are an integrated-mission organization. Most people do not realize there is a spectrum of assignments that we do. We also employ a diverse personnel. We have ex–special forces, football coaches, teachers and lawyers who give us a workforce reflective of the American population.
The Secret Service also has benefited from the incredibly innovative U.S. Digital Service program. It allows the best technological minds from the private sector to come and work for the government, infusing cutting-edge ideas as well as sharing the absolute latest iteration of best practice.
FEDTECH: Recruiting is a major priority right now, especially with technology. Why should people work for the Secret Service?
LAYTON: Because it's an awesome place to work. Recruiting top talent is paramount for us. If you are a person with a science, technology, engineering or math background, we are absolutely interested in you.
Think about the technology used to take a protectee from point A to point B. It includes voice, video, communications, and we hold responsibility for that. The Secret Service, as a profession, offers incredibly exciting life experiences that are unparalleled.
Khue Bui