Review: Tripp Lite's SRCOOL12K Keeps Computer Systems Cool
The portable, powerful Tripp Lite SRCOOL12K rolls into any agency to lower the temperature of hard-working electronics.
Most federal buildings were constructed long before considerations such as the heat generated by servers, computers and other electronics were taken into account. Even in ­relatively modern structures, many wiring closets or clusters of communications gear aren't properly vented. And efforts to shift computing power closer to users and away from sprawling data centers only exacerbates the problem.
Trying to cool IT equipment with only building-level heating, ventilation and air conditioning (HVAC) is inefficient; it either fails to provide enough concentrated cooling in critical areas, or it constantly keeps warm temperatures consistent in some areas while freezing people in others.
Spot coolers such as the Tripp Lite SRCOOL12K portable air conditioner can help. The SRCOOL12K is a highly efficient unit designed to transport to trouble spots on easy-gliding wheels. It's thin enough to squeeze in nearly anywhere and comes with flexible tubing that allows for easy setup for both cooling and ventilation.
SIGN UP: Get more news from the FedTech newsletter in your inbox every two weeks!
Get Server Rooms Cool in a Hurry 
The back of the unit has a flexible plastic tube that vents hot exhaust through a window or into ceiling tiles, out of the room. Water buildup is no problem, with a built-in dehumidifier that slowly sends water vapor out with the exhaust. There's no need to empty a pan or perform physical maintenance.
Users set temperature and modes on a large, top-side touch panel; the cooler operates independently after initial setup. Even after a power failure, the cooler remembers its previous settings and resumes operations once power is restored. A single unit can efficiently cool an area of about 500 square feet.
To test the unit, I rolled an SRCOOL12K into a 450-square-foot room. The ambient room temperature was 76 degrees to start, but powering up several servers in a rack raised the temperature to 84 degrees within an hour. Setting the unit to 74 degrees did the trick, as the hot air vented out a nearby window.
Within 20 minutes, the temperature fell to 74 degrees, and the cooler took short breaks, just running its fan to vent collected water vapor. It protected the room, keeping it at the desired temperature for three days, never slipping more than 2 degrees.
Heat buildup is the enemy of modern technology, but Tripp Lite's SRCOOL12K ensures that electronics remain cool even if placed in less than ideal circumstances. It will reduce the burden on building HVAC units, lowering cooling costs across the board.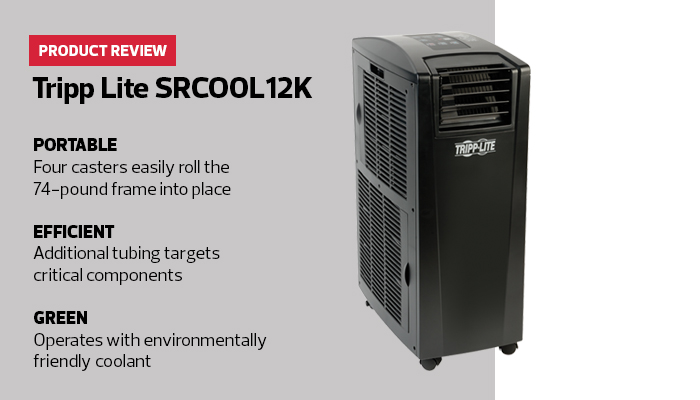 Direct Cool Air to Keep IT Equipment Temperatures Down 
Most agencies will likely be able to use the SRCOOL12K portable air conditioner unit right out of the box and immediately benefit. However, IT staff can use special features to squeeze even more efficiency out of the unit.
Each rolling tower comes with a front vent that can direct air vertically using shutters, and wheels to position the unit horizontally. The cooler also comes with a second vent cover and a plastic tube that enables users to achieve more precise airflow.
In the 450-square-foot test lab, the ambient temperature was measured at 76 degrees, which jumped to 84 degrees within an hour after powering up several rack-mounted servers. The optional front hose and vent, along with the primary cooler, directed cool air into the top of the server rack, allowing air to flow directly over the servers and vent out the bottom.
The hot and humid exhaust generated by the cooler still vented out of the back of the unit and out a window, but the cool air went directly onto, and into, the servers. Manipulating the unit this way made it harder to keep the room temperature precisely at 74 degrees, but that's not the point of a spot cooler. It could be called on for that type of duty if there is a problem with a building's air conditioning, for example, but it's specifically made to cool equipment, not air.
Extra Hardware Provides IT Admins with Options
Applying chilled air directly to the rack with the optional hardware allowed the server processors to run 22 degrees cooler than before. It also reduced their fan speeds and thus power consumption, making them generate even less heat. And the room was far from an oven: The temperature stayed close to 75 degrees, one degree lower than the original ambient temperature. The servers stayed cool and ran efficiently within their rack enclosures.
The second vent cover and airflow tubing provide a nice extra feature. Enabling close-coupled refrigeration of IT components is extremely efficient. With only one rack, that is certainly the way to go. More racks would reduce the efficiency of such a cooling approach, although each additional rack could be cooled by a separate unit.
Given that the cooler comes at a price point most agencies would find affordable, furnishing each rack with its own chiller would go a long way to ensuring both efficient computing and component longevity, something every agency can support.
Tripp Lite SRCOOL12k 
Capacity: 12,000 Btu/h
Airflow: 317.8 cubic feet per minute
Dehumidifier: 0.66 gallons per hour 
Noise: 57 decibels at 1 meter
Dimensions: 11.8x19.9x30.6 inches 
Weight: 73.9 pounds
Tripp Lite