The Tech Needed to Help NORAD Track Santa
Telecommunications and mapping tools help the military command keep track of St. Nick's whereabouts on Christmas Eve.
Santa Claus is coming to town. And NORAD will be tracking him the whole way. 
The North American Aerospace Defense Command — a joint effort by Canada and the U.S. to provide aerospace warning, air sovereignty and defense for North America — usually tracks things like aircraft, missile launches and other potential threats. One night a year though, NORAD also tracks another object in the night sky: Santa Claus. 
For 63 years, NORAD has tracked Santa's whereabouts on Christmas Eve, and will continue to do so this year — even in the event of a partial government shutdown. 
Although the official NORAD Tracks Santa website has been live since Dec. 1, on Dec. 24 the operation will kick into high gear. Almost 1,500 American and Canadian uniformed personnel, Defense Department civilian employees and volunteers are expected to join NORAD on Peterson Air Force Base in Colorado Springs to help track Santa's journey across the globe, according to Maj. Mark Lazane, NORAD Tracks Santa program director. 
As NORAD's press release on the program makes clear, that mission cannot be completed without partners. The military command partners with nearly 70 companies, including Microsoft, which hosts the official website where users can track Santa's journey. However, the operation also relies on a host of telecommunications solutions and 3D mapping technologies to effectively track Santa's progress and relay that information to anyone of any age who contacts NORAD to inquire about his whereabouts. "If you count those folks, it's an untold number of people that work behind the scenes," Lazane says. 
In addition to the website, those interested in finding out where Santa is on Christmas Eve can call 1-877-HINORAD for Santa's up-to-date location. Volunteers manage a large phone bank to receive calls. At the operation's peak, which lasts the majority of Dec. 24, NORAD relies on 160 volunteers every two hours to staff the phones and respond to emails, according to Lazane. The facility itself is normally a regular conference center, but on Christmas Eve it transforms into a Santa-tracking operations command center. 
A separate team of volunteers will be managing NORAD's social media channels on Facebook, Twitter and Instagram to provide updates on Santa's location and field inquiries. 
VIDEO: See how USCIS and SBA evolved their website services with emerging technology. 
The History of the NORAD Tracks Santa Program
As FedTech explained in 2015, the story of NORAD's Santa tracking began in 1955 when, according to NORAD, a Sears, Roebuck and Company advertisement in the Colorado Springs Gazette urged children to call Santa on Christmas Eve. There was just one problem: The ad mistakenly used the telephone number for the Continental Air Defense Command. Children hoping to speak with Santa wound up being connected to the CONAD "hotline."
Col. Harry Shoup, the director of operations at the time, came up with the idea of having his staff check the radar to see when Santa was leaving the North Pole to deliver presents. Children who called were given updates on his location. With its formation in 1958, NORAD took over the responsibility of tracking Santa every year.
The program has evolved over the years, and in the mid-1990s, NORAD set up its operations center. The Santa Tracker website launched in 1997 and has evolved significantly since then.
NORAD Teams with AGI to Track Santa
Paul Graziani, co-founder and CEO of AGI, which provides software and mapping solutions for the defense and aerospace industries, says the company has been working with the program since 1997 and started counting NORAD as a customer in 1990. 
"What we do for NORAD we do for lots of other customers," Graziani says. "We help them visualize and understand and communicate the complex aerospace systems they deal with." That includes things like helping NORAD determine if their sensors and satellites are providing the coverage they need and if aircraft can get from point A to point B in the time that is required. 
AGI helped set up the first Santa tracking website in 1997. "We knew what it would take to stand up a website and to display Santa in real time," Graziani says. What AGI did not understand was how much web traffic that site would draw. AGI hosted the site on its own internal servers, and even though it had tested them, on Christmas Eve the severs became overwhelmed with traffic and the site was inaccessible because it was getting "millions and millions of hits," Graziani says. "We were very naive," he adds. 

Since then, other partners like IBM and Microsoft have taken on the duties of hosting the tracking website, which attracts about 20 million visitors on Christmas Eve, according to AGI. AGI's role has been to provide Santa tracking software. Prior to 2012, this involved a 2D map that had an icon representing Santa's location. When users clicked on the icon, a video would pop up from one of NORAD's "Santa cams" to show footage of his sleigh's flight. 
Starting in 2012, AGI began providing a 3D map of the Earth to track Santa's location. Hannah Pinkos, a software developer at AGI, is responsible for managing the app on the tracker website that displays Santa's progress on Christmas Eve.
"We receive data from NORAD's network of Santa tracking sensors, and we have software that reads that data and is able to find out where Santa's position is, which direction he is traveling in, how fast he's going," Pinkos says. "And then we send that data up to our 3D globe application, which is called Cesium." 
Santa's sleigh and his reindeer are digitally rendered and then positioned in a way that reflects where the sensors report where he is, Graziani says. 
In 2012, only about 20 percent of those who viewed the website were able to see the 3D model rendered. However, with the advancements in browser technology and smartphones, last year that figured had climbed to at least 92 percent, according to Pinkos. AGI works to ensure that this data can be viewed well on all kinds of mobile devices in addition to desktops. AGI has a small team on hand to ensure everything runs efficiently, Pinkos says, but over the last few years everything has gone smoothly. 
Graziani says AG uses firewalls and encryption technology to ensure the data it transmits to the tracker website is not interfered with. "There are direct parallels to what we do for government and commercial operators," he says. "You don't want your sensors data to be spoofed." 
Verizon Helps NORAD Volunteers Man the Phones to Track Santa
Lazane says that the major technological challenge related to the phone system is to enable all 160 volunteers to be able to accept calls, not just the first person in the queue. That way, as soon as one call gets picked up or ends, another volunteer will be able to accept a new incoming call. NORAD works with Verizon and Avaya Business Solutions to enable that system.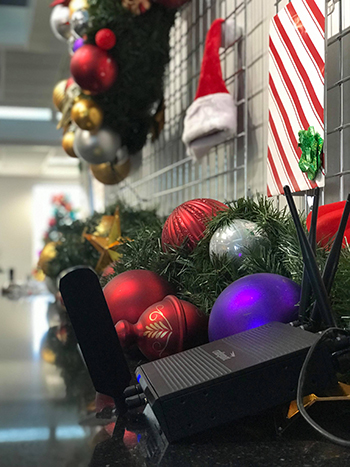 Photo: Courtesy of NORAD
Verizon, which has been working with NORAD on the Santa tracking program for 16 years, provides a secure 4G LTE wireless broadband signal for a set of dedicated routers, according to a Verizon statement to FedTech. The carrier provides SIM cards to connect the laptops that volunteers use on Dec. 24, "giving them the data levels and speeds that they need to operate on the external network." Those SIM cards also "provide the capabilities needed to project the real time tracking display monitor of where Santa is at any given moment, so the volunteers in the room can know the right information to share" with those who call in. 
NORAD also uses Verizon's network backhaul to project the data they need to support new components, such as a live feed throughout the day. 
Verizon does not manage the entire phone system for the program; however, it does provide the toll-free hotline, and uses interactive voice response to route calls to volunteers throughout the day. 
"Last year, Verizon worked with NORAD to add a new component for callers trying to get through to the operation center at busy times," Verizon says. "These callers can still get an update on Santa's location via recorded message by none other than … elves!" 
In the weeks leading up to Dec. 24, Verizon spends time onsite at NORAD, testing the IT and making sure that the NORAD staff and volunteers have the connectivity needed to access the internet to help track Santa's progress and quickly respond to emails, according to Verizon.
NORAD Tracks Santa/YouTube
More On