Set a Timeline for a Windows 10 Migration [#Infographic]
Here is how federal agencies can plan for a smooth transition from Windows 7 to Windows 10.
Federal agencies, and the wider world, are now in the final year of life for Microsoft's Windows 7. 
Most agencies have begun the process of migrating to Windows 10 as part of the government's ongoing goal to modernize its technology. The Defense Department was among the first, starting soon after the product was released in mid-2015 with a mandate that its agencies move to the new OS by January 2017.
The transition to Windows 10 technically should be complete for everyone by Jan. 14, 2020, the day that Microsoft ends technical support and stops sending automatic security updates for Windows 7. 
As many agencies and enterprises have found, the migration is generally a year-long journey, and sometimes longer; DOD at one point extended its deadline for migration by a year. The actual deployment can be relatively quick, however. Microsoft migrated 96,000 global employees working both remotely and in the office to Windows 10 in nine weeks.
Those agencies that haven't started, or who might be in the early phases of planning the migration — it can take longer than the actual deployment — might not make the deadline. Given the lack of support after next Jan. 14, however, starting late is better than never starting at all.
"After support has ended, your PC will become more vulnerable to security risks and viruses," Microsoft says. "Windows will continue to start and run, but you will no longer receive software updates, including security updates, from Microsoft."
Below is a sample timeline for how agencies can undertake their migration.
For more, check out all of our Windows 7 End of Life content.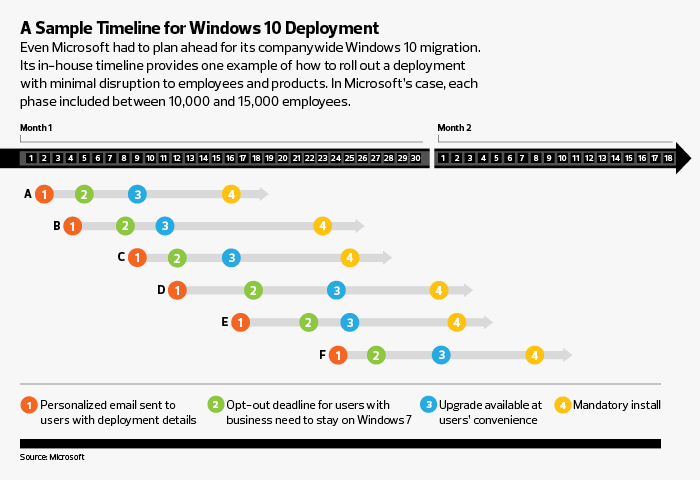 More On