The IT Infrastructure Library Method Helps Agencies Rethink Training
Agencies IT leaders want to drive process improvement, and ITIL combines the best of consulting and training to deliver better outcomes.
After more than two decades in IT management, I have become frustrated with the limited ways to improve functions. While many IT leaders want to drive sustained change, little truly works, especially inside government.
This frustration crosses all elements of IT management, from the way we develop and execute budgets to how we implement service management and secure our systems, and everything in between.
During my career, I have observed three common ways that IT organizations attempt to drive process improvement:
Recruiting talent. While a viable option, talent recruitment includes significant risk, especially in government. Agencies must not only find qualified candidates, but also recruit them into the organization and hope they possess excellent leadership skills.
Hiring consultants. Typically, consultants feature the required expertise. They can study an agency, identify weaknesses and recommend plans for improvement. In my experience, though, consultants struggle to provide the leadership needed for change because they come from outside an agency. They can make the correct suggestions in every aspect of IT, but the results may not always measure up to the rhetoric.
Training current staff. Many agencies would prefer to rely on their own staff for process improvement, augmenting their skills with training in the appropriate disciplines. This training may not provide the management insight that comes only with real-world experience. In the end, process improvement does not realize the expected objectives.
How to Achieve Improved Outcomes
Fortunately, a training approach known as the IT Infrastructure Library (ITIL) continues to gain momentum. This approach drives sustained and positive process changes that staff can embrace. It focuses on innovative learning methodologies that combine the best of consulting and training to drive improved outcomes. At its core, the program has an instructor work with agency staff on a comprehensive workshop. Employees learn concepts and then apply them to the real-world needs of the agency while the instructor provides guidance and leadership. These workshops support process implementation and result in real deliverables that add extra value to typical training.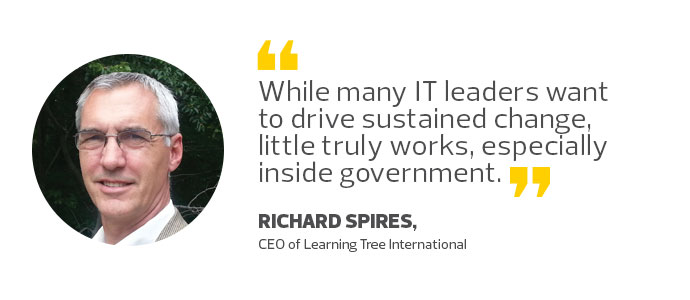 ITIL involves custom design for program leaders and project managers who oversee critical investments in major programs. The workshop complements a growing trend: Agencies are being asked to implement consistent management practices across their enterprises to reduce cost and improve customer satisfaction.
A large government agency recently underwent ITIL training with great results. The department had been spending millions of dollars on IT each year, but only a fraction resulted in value for the agency. The CIO faced pressure from various stakeholders on the amount of money spent without a proper return.
To stop the bleeding, the CIO took immediate action, enrolling the agency's IT staff in an ITIL best practices course.
During the workshop, agency IT staff were introduced to:
An IT service-level management process with service-level agreements across all customer offices, underpinned with an IT enterprise service catalog

End-to-end service mappings for each service

A fully defined cost model that enabled fair and fully transparent cost recovery across all IT services By focusing on a combination of staff training, deliverables that can support the organization, and pragmatic implementation support, these workshops can rapidly enable agency improvement.
For agency IT leaders, workshops like these can bring change without the frustration.
Rawpixel Ltd/ThinkStock
More On