Review: Fujitsu Stylistic Q738 Pulls Double Duty for Mobile Workers
With lightning-fast performance in tablet or notebook mode, this portable device provides speedy, safe computing.
Many federal agencies offer mobility programs to enhance both productivity and quality of life for their workers. But much of the government's meat and potatoes still takes place in designated workspaces. With that duality in mind, the Fujitsu Stylistic Q738 is designed to offer powerful ­desktop-quality ­performance and ­unlimited mobility.
Unlike some two-in-one tablet designs with keyboards that seem like a flimsy afterthought, the Q738's sturdy docking station seamlessly attaches to the display to offer full notebook functionality, including the use of a touchpad.
At a glance, the Q738 is indistinguishable from a normal, high-end notebook when docked, even though all the computing power is contained within the display.
The review unit I tested included an Intel Core i5 processor and a Windows 10 64-bit operating system, which could handle just about anything I could throw at it, including advanced PowerPoint decks and multimedia apps. Fujitsu offers a Core i7 model if more power is needed, as well as an i3 for less intensive tasks. The Q738 transforms into a portable slate-type tablet with a beautiful ­13.3-inch HD display when the screen is detached. It has a native resolution of 1920x1200 pixels configured to a 16:9 widescreen ratio.
It's also a highly sensitive touch screen, capable of recording extremely fine or detailed input.
MORE FROM FEDTECH: Find out how NSF and NASA keep tech working for far-flung employees.
Fujitsu Delivers Solid Battery Life for Federal Workers
Another good ­feature: Fujitsu balanced the weight of the tablet with a long ­battery life. The Q738 weighs only 1.7 pounds, but its three-cell lithium polymer battery kept power flowing for an average of 9.8 hours in simulated battery benchmark and ­real-world ­testing. The device recharges fairly quickly, in about an hour depending on battery drain.
Although not fully rugged, the Q738 passes several elements of the MIL-STD-810G military testing, including most hazards that the device is likely to face, such as being dropped. Fujitsu did a good job of reinforcing traditional weak spots, such as the corners, to help the device survive.
With the Fujitsu Stylistic Q738, feds don't need to choose between powerful desktop performance and full mobility. The Q738 offers the best of both worlds, and with no notable compromises.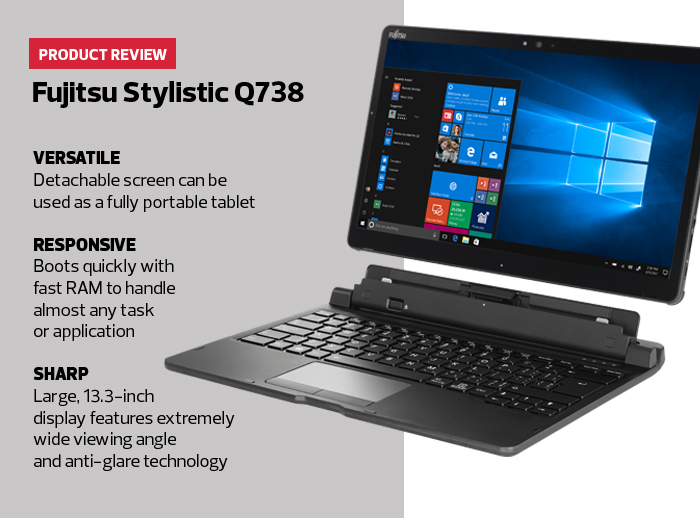 Lock Down Security for Mobile Federal Users
Security is no joke to the federal government, and is a primary concern for any type of information technology purchase. Even if a device is otherwise perfect, poor security will keep it out of government hands.
That won't be a concern with the Fujitsu Stylistic Q738, which comes with several extra layers of security, both standard and optional.
For front-line security, the device is designed to work with Windows Hello, which uses facial recognition to authenticate users; it can even be set to log users out if the camera doesn't see them for a set period of time. When combined with a standard password procedure, this gives the Q738 the dual-factor authentication many agencies require. 
An optional fingerprint sensor that plugs into the side of the unit potentially adds a third factor. Users can combine the fingerprint scanning with Windows Hello and possibly eliminate passwords altogether without compromising security.

Built-In Chipset Enhances Security Policies
In addition to standard security fare, such as a Trusted Platform Module (TPM 2.0) chip to check for tampering on bootup, the Stylistic Q738's BIOS is designed to support Absolute Persistence technology. Built into the device, the chip allows agency administrators to access their devices and enforce security policies, including requiring the latest patches on all approved software or restricting access to unapproved programs.
Because the Absolute technology is embedded in the firmware, administrators can set policies now and enforce them later, even if the Q738 is not connected to an agency network. For example, users can't break security policies — accidentally or on purpose — while traveling. The Absolute protection technology resists any attempts to purge it from the device, because the chipset is embedded in the system. Even wiping out the BIOS or reinstalling a different OS won't eliminate security policies set through Absolute.
The Fujitsu Stylistic Q738 is quite a workhorse, able to zip through most government applications quickly while offering full mobility when needed. It also offers robust protection that exceeds most government compliance and security mandates.
Fujitsu Stylistic Q738
Processor: Intel Core i5-8350U
Display: 13.3-inch IPS touch screen
Hard Drive: 256GB SATA III solid-state drive
Memory: 8GB LPDDR3 SDRAM
OS: Microsoft Windows 10 Pro 64-Bit Edition
Dimensions: 8x12.5x0.4 inches
Weight: .7 pounds, tablet only; 3 pounds with keyboard cover
Fujitsu
More On