Faithfully Executed: The Technology Behind the Presidential Inauguration
The federal government relies on collaboration to smoothly transition from one administration to the next.
Just one minute after noon on Inauguration Day 2009, a crew of government officials activated the redesigned website for ­whitehouse.gov. Former President Barack Obama's team, recognized for its technically sophisticated campaign, wanted a digital ­presence at the moment he assumed power.
They soon realized, however, that nothing comes easy in Washington. Many of the site's links didn't work, and the Obama team spent months fixing the errors.
"That was their gunshot in the air to start the presidency," says David Eagles, director of the Center for Presidential Transition, an affiliate of the nonprofit Partnership for Public Service. "But they didn't have enough time to ensure that the site was up and running smoothly."
As the transition team for President Donald Trump grapples with how to oversee the federal government, technology is primed to become an increasingly critical piece in the turnover. Digital tools — from virtual reality to spreadsheets to cyberintelligence reports — allow the incoming and outgoing teams to streamline their work, better serve constituents and enhance communication.
"The Obama campaign really moved the needle in terms of using technology to communicate, but it's amazing how quickly things have changed," Eagles says. In 2008, he notes, the iPhone was in its infancy. "The role of technology as both an enabler of campaign promises and also a vehicle to communicate those promises should only get greater."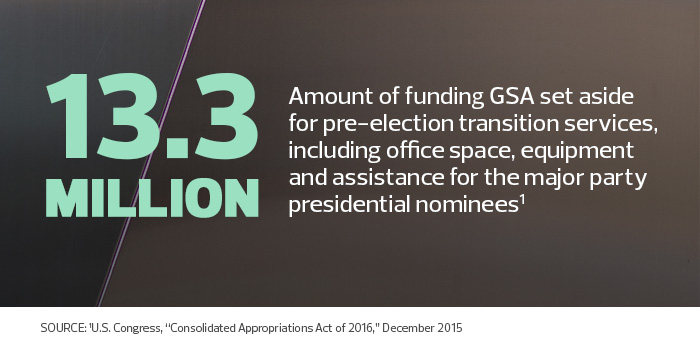 Presidential transitions happen fast, often in fewer than 80 days from acceptance speech to inauguration.
"These incoming teams are inheriting a $4 trillion budget, hundreds of federal migrate more information to the cloud and ensure that data is secure.
"The cloud is enormously important for government," Cook says.
Federal agencies spend $80 billion annually on technology. Cook's mission is to teach federal IT leaders to become better buyers and builders of technology. Rather than pour time and money into extensive upfront specifications, he wants agencies to follow a user-centered design approach: create a quick version of a specification, get feedback from users, then allow the feedback to guide the bulk of the design. That model is critical considering the pace of change.
"We're trying to get technology caught up, but also get it into a mode where it keeps getting caught up," he says. "If we get caught up to 2017, what happens in 2025? We need technology to be more agile so that it's not always decades behind."
Making the Technology Transition Smoother
A new administration marks an ­opportune time to upgrade technology, but bureaucracy hinders many teams. More than 75 percent of IT budgets support legacy systems, according to the Government Accountability Office.
"They're walking into this scenario: 'How do I do more with less and free up money so I can do some new important projects?' " says Tom Greiner, managing director of technology at Accenture, which has worked with the Center for Presidential Transition. "They need to understand the state of the in-flight technology at the agency they're taking over, their goals for the agency and how to put in the right budget request to support that priority."
During the 2016 transition, Eagles saw promising signs. In the past, new administrations focused on individual agencies, but in 2008, Obama created a policy team to break out of those ­stovepipes and find opportunities for cross-agency improvement. Members of that team shared lessons learned during the 2016 transition.
Keeping Digital Records 
Meanwhile, as the Trump team prepared to move into the White House, the Obama administration prepared to move out — no easy task, considering the growing volume of presidential digital records. Bill Clinton's administration generated approximately 2 terabytes of electronic records, and George W. Bush's team transferred approximately 80TB of presidential records to the National Archives and Records Administration.
Obama's team began transferring an estimated 200TB of data to its Electronic Records Archive at NARA in May, says Miriam Kleiman, the agency's program director for public affairs.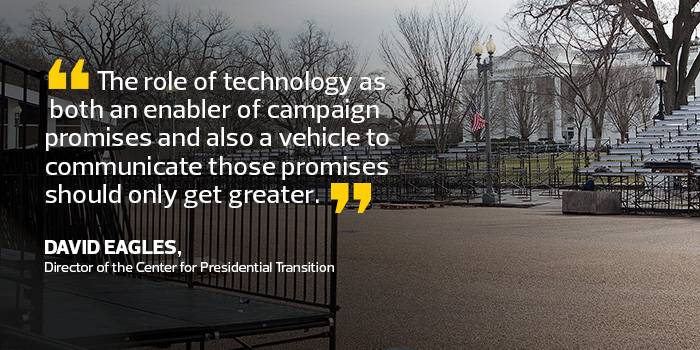 The larger digital footprint is due in part to social media and websites, which allow administrations to provide transparency into the transition process and communicate with citizens.
Obama's team created a White House presence on Facebook, Twitter and Flickr. It also launched We the People, a website to petition the administration, and change.gov, to help find federal jobs.
The presidential social media accounts moved to Trump's team on Jan. 20, along with their current followers, but all previous content was cleared. NARA will maintain and archive the material generated by Obama's administration under separate accounts.
While Obama ushered the White House into the social media age, technology will likely play an even greater role during Trump's presidency. No one knows how technology will evolve or which tools will gain prominence, but Eagles says presidents work best when they harness its power with one goal in mind: to make government work better.
Khue Bui