Obama Administration Goes Social with Second Inauguration
New app gives attendees relevant information for enjoying the inaugural celebration.
President Barack Obama's first inauguration in January 2009 saw over 1 million people descend on the National Mall in Washington, D.C., and with them came all of the logistical headaches of managing a crowd of that size. In the worst and most publicized hiccup, thousands of inaugural ticket holders were trapped in the Third Street Tunnel for hours and missed the ceremony.
Officials are expecting smaller crowds this year but are also taking steps to avoid the pitfalls of 2009. Chief among the measures being taken is a new mobile app from the Presidential Inauguration Committee.
The app is available for the iPhone and iPad and for Android devices, and its main attraction is the option to live stream President Obama's swearing in and inaugural address. This will be a huge boon for users who are unable to attend the event or see a television broadcast of the proceedings. Moreover, the app will keep inauguration attendees up to date on all of the relevant information needed to make their visit as easy as possible.
To start the day, the app will provide access points, and users can plug in their ticket information in order to find the gate that is closest to their seating area. For people without tickets, there will be a location list of the viewing screens scattered throughout the grounds. Finally, the app will offer the day's full schedule of events as well as pertinent news stories, photos and videos.
Considering the number of people who currently carry smartphones, the inauguration app represents a great way to bring the ceremony directly to visitors and keep them up to date on scheduling and information. In the past, attendees had to ask volunteers on the Mall for information about entrance gates and public transit, but now the app will provide maps along with information as it develops. If something were to happen, like a Metro train station closing, the app will get that news to users in a way that was not available as recently as four years ago, thus avoiding a snafu like the Third Street Tunnel incident.
Anyone planning on attending the ceremony should prepare for the big day by downloading the app from the App Store or Google Play.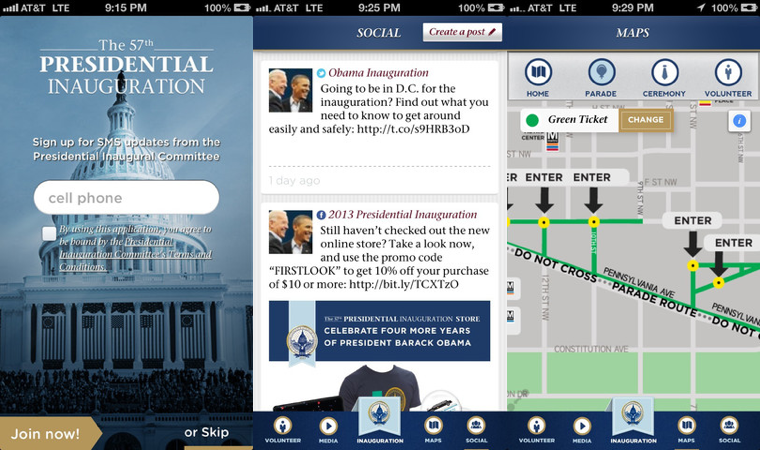 <p>Image courtesy of vitasamb2001 / <a href="http://www.freedigitalphotos.net" target="_blank">FreeDigitalPhotos.net</a></p>
More On