Marines 3D Print Parts on Demand
A relatively new unit, the Marine Corps Advanced Manufacturing Operations Cell offers on-demand 3D printing services for the Marine Corps. The unit's motto is, "If we can't find it, we'll make it." AMOC uses 3D printing technology to ensure even the most obscure of spare parts find their way into Marines' hands. 
Marines can sometimes spend days, weeks and even months waiting for parts to arrive through traditional supply methods, Capt. Matthew Friedell, AMOC project officer, says in a statement. AMOC can try to help Marines find parts, make them or source the parts through an external supply system, he says. 
"We came to find it's not just 3D printing that's the revolution," Friedell told Federal News Network. "It's letting Marines know the technology and support infrastructure exists to help them find any part they need." 
Marines who need specific parts can contact a help desk that directs them to the department they need to speak with about the part, and then AMOC can start gathering the information it needs to create it, according to Federal News Network. AMOC can even help Marines print outdated parts that are no longer regularly created. 
"We're having a lot of problems in our system," Friedell told Federal News Network. "There's parts and pieces on vehicles that haven't been made since the 1970s and 1980s, and it's very hard to replace those parts. The vendor is either out of business or we can't find the data on it, so we have to start making these by ones and twos."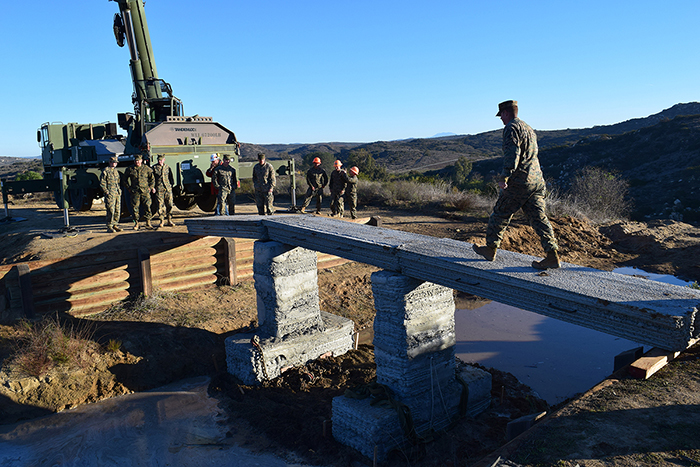 A Marine with 1st Marine Logistics Group walks across a concrete footbridge during a 3D concrete printing exercise Dec. 12, 2019 at Camp Pendleton, Calif. U.S. Navy photo/Ensign Elizabeth Flanary
One of the early products AMOC created was a radio bracket that held radios in place on Humvees, which often broke, according to Federal News Network. "Without it, the radio rattles around and can't keep in good contact with the electronics it needs to keep in contact with, or Marines just end up holding it," Friedell said. The part was not orderable, but the office was able to 3D print it. 
"That was sort of our 'Aha!' moment," Friedell added. "Now we can have those parts and the next person that needs that doesn't have to research it or engineer it, they can just hit print." 
Today, AMOC can create everything from sled brackets to small drones and can even print in metal. 
MORE FROM FEDTECH: Find out how NASA lets astronauts print in any orientation.
3D Printing Helps Marines Create a Bridge
3D printing can help the Marine Corps not just with repairs but with creating entirely new structures that help with operations. 
In December, Marines from the 1st Marine Logistics Group at Camp Pendleton, Calif., successfully 3D printed a concrete bridge with the help of AMOC and the Army Corps of Engineers. 
During the Corps' annual Steel Knight exercise, Marines were trained on how to use the Automated Construction of Expeditionary Structures — or ACES — printer. They also used new equipment and printed and assembled a usable footbridge to show how concrete could be 3D printed in a battlefield environment. The Army Corps first demonstrated ACES in 2017. 
"One of our goals was for Marines to learn to operate the equipment on their own, which they did and it was great," Friedell said in a separate statement. "Another goal is that each time we do one of these tests, we use [fewer] people. Ultimately, we want one person standing there who hits 'print,' and the machine does all the work. We're getting there." 
According to Friedell, the demonstration was the first time that a bridge was 3D printed onsite rather than in a factory setting in the Western Hemisphere.