Review: Logitech C920s Pro Webcam Travels with Feds on the Go
This webcam's small footprint and quick installation are supported by solid videoconferencing software.
Pocket-sized, portable and simple to attach, the Logitech C920s HD Pro Webcam is perfect for federal workers who may have to log in to conference calls from their desk, remote office or locations in the field.
Logitech has made webcams for more than a decade, and this one is my go-to device for daily conferences. It's quick to set up — just plug the USB cord into a standard A-type connection and the device should be auto-detected, with drivers installed in just a few seconds. 
Easy to take on the road for use with a laptop that doesn't have its own camera, the C920s can be placed in a number of positions on top of a monitor or attached to a desktop mini-tripod, if necessary. 
Both Mac and Windows users can select from a wide range of videoconferencing and recording software for the C920s. 
Because the webcam connects through a USB port, most operating systems will automatically recognize it and install the appropriate drivers for both video and audio support. This means that no additional software is needed to operate the device. 

The Logitech C920s Works with a Wide Range of Platforms 
I tested the C920s on both Windows and Mac computers — the camera works on all models of Windows 7 or macOS 10.6 or later. It also works with a variety of videoconferencing and video recording software, including Zoom, Skype, Camtasia and FaceTime. Images were clear, crisp and automatically focused.
Logitech also offers downloadable Windows and Mac software that provides support for multiple cameras, camera scanning frequency controls and other user experience enhancements. 
The C920's built-in microphone delivers solid audio quality under average office and cubicle conditions. The webcam includes automatic noise cancellation, which helps in an open-office setting. A headset is necessary, however, because the device does not include speakers.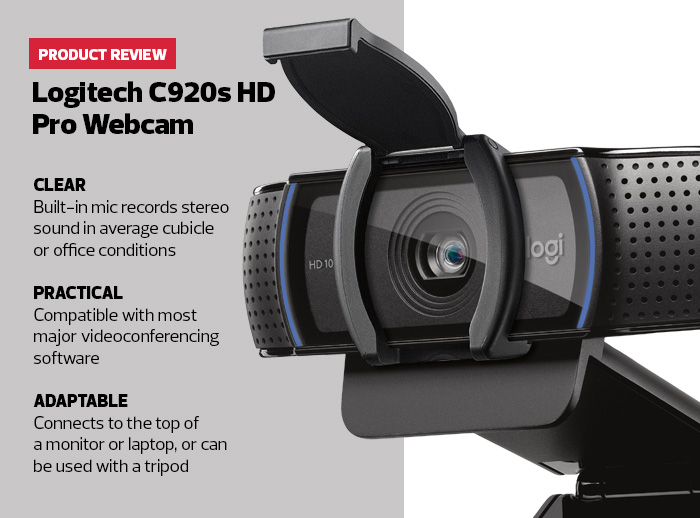 Federal Users Get Large Bang for the Buck with C920s
Among Logitech's full range of webcams, the C920 provides the most value for the money. 
The more expensive C922x model includes a six-month license for XSplit video editing software. 
Other models include additional features but use essentially the same optics and audio elements, so for the price, the C920s offers a comparable recording experience.
If you are concerned with audio fidelity or the best possible audio quality for your recordings or conferences, consider purchasing a separate USB microphone.
Logitech C920s HD Pro Webcam
Video: Full HD 1080p recording and calling; H.264 digital video format
Sound: Dual built-in mics
Camera: Full HD five-element glass lens
Connectivity: USB 2.0
OS: Windows, Mac, Chrome, Android 5.0 or later
Logitech